When you log in to your RecurPost account, you will be sent to a dashboard page where you can add and manage your social accounts. The dashboard also allows you to view the actions on your RecurPost account which are as follows.
We support multiple social platforms and allow you to connect the following social accounts to RecurPost:
Let's have a look at how to use RecurPost Dashboard.
How to Add Social Accounts?
Simply navigate to your Dashboard from the main menu bar. You'll see a 'Add' button on the left-hand side.
Read more to know how to add social accounts.
How to Manage Social Accounts?
From the dashboard, you can manage all of your social accounts. From the manage option, can pause and resume your social accounts, edit (you can edit the name of your social account only in Recurpost), reconnect and delete your social account.
How to share a One-Off Post?
From the dashboard you can share a one off post. We allow you to share a post on your social accounts straight away or schedule it for later.
Follow the steps below to create a one-time post:
From dashboard go to share a post.
Add content to your post (you can include emojis, photos, videos, hashtags, etc)
Choose the social account to which you wish to share your post.
You can customize your caption for each platform.
You can either select post now or schedule for later.
How to Share a Post Using AI?
You can share a post from the dashboard using the AI feature that we have in RecurPost.
Instead of looking for additional ways or information to increase your posts, you can use the AI tool within RecurPost to optimize your social media content by obtaining the appropriate hashtags and descriptions for a post. Read more…
Queue
Queue is essentially the place where you will see the posts that are about to go out to your social accounts. You will also be able to edit and delete these posts directly from Queue to get work done quicker and these changes will not be saved into your library.
You can choose to view your posts either as a List or as a Monthly Schedule.
In the List view of the queue, you will be able to see all of your One-off posts (regardless of their scheduled time and date) and the Recurring Scheduled posts that are soon to be posted.
In the Month view of the queue, you will be able to see the same, but in a much wider and "zoomed-out" view. Your social posts will all be mapped out and organized according to the dates and days of the month.
You can Pause Queue from the dashboard. You can pause your entire queue and once it is paused then no post will go out to all your social accounts until you resume it again. Your schedules will stay intact when you pause the queue and as soon as you resume it your posts will start scheduling normally.
You can Filter the Queue by Libraries. You can filter out your scheduled posts on the Queue section by clicking on the filter option and then selecting the library/libraries for which you want to see the scheduled posts. This is very helpful when you have a large number of scheduled posts going out on multiple social accounts from multiple libraries.
From Library Calendar you'll be able to see all of your scheduled posts that are yet to be posted within the remainder of the current month and the end of the next month.
You can view your posts up to two months in advance. This allows you to "look into the future" and gives you room to make improvements and optimize your posting strategy.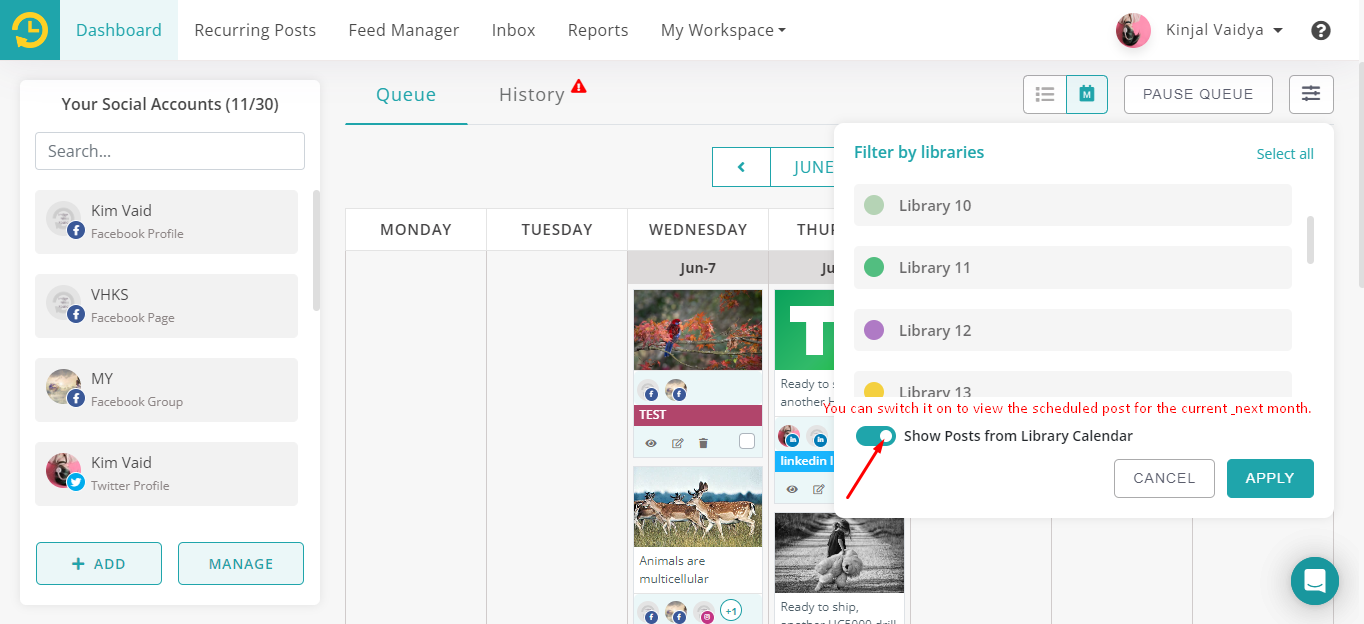 You can check all the above features in detail here.
History
The History tab does exactly what it suggests. It shows you all your social posts that have been successfully posted on your social accounts using RecurPost.
It allows you to visualize and keep track of what you have shared on your social media accounts so far so you can optimize and plan your marketing strategy accordingly.
Simply set the range of dates and RecurPost will show you all the posts that went live between those dates.
Other Features on the Dashboard Page
Account Settings – You can manage your RecurPost account from here.
Billing – You can check, manage your plan, invoices and manage your add-ons from here.
Plug – ins – You can manage your URL Shortner, Hashtags, Custom Fields from here.
Approval Queue – This option allows your team member to send the post for your approval and as a team owner you can approve the pending post. In order to use the Approval Queue, you must set up the workspace first.
We hope this information is helpful to you. In case you have any questions or need help with the Dashboard tab then please reach out to us at support@recurpost.com.