There's a new version available for this guide. Click here to read.
As soon as you sign up for RecurPost, you will need to add social accounts where you want us to share your social updates.
We support various social platforms and allow you to add the following types of social accounts to RecurPost:
Facebook Profile
Facebook Pages
Facebook Groups (that you administer)
LinkedIn Profile
LinkedIn Company Pages
Twitter Profile
Instagram Profile
Google My Business
Pinterest Board (coming soon)
Pinterest, as of right now, is not available but will soon be available as we continue to bring in more and more platforms to RecurPost.
We are continuously working on adding support for more platforms. If you want to know what is in our pipeline, please contact us to find out.
To add a social account, click on the Social Accounts menu.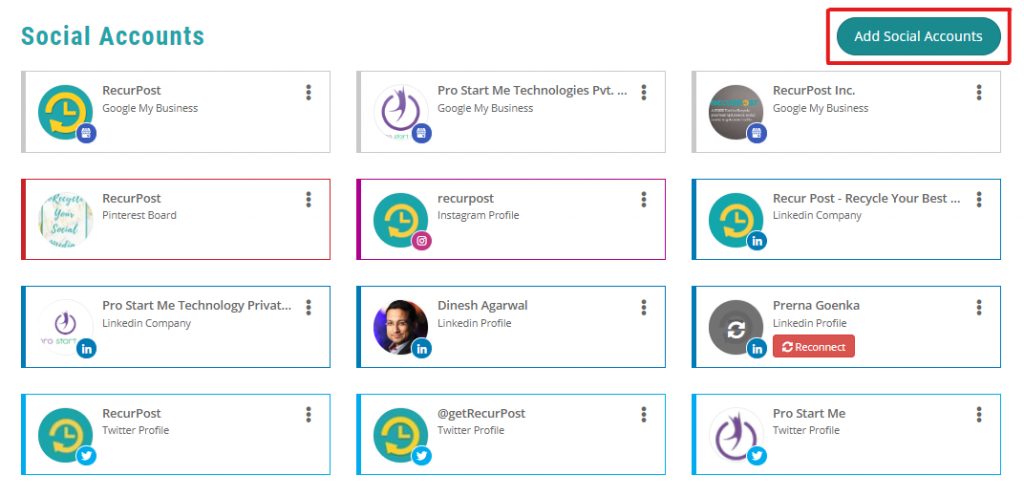 Click on the social account type you want to add and on the next screen you may need to login to that platform if you are not already logged in.
On the next page, you will see a list of profiles/pages/groups with one of the two options (Add or Remove). The ones that say Add means that account is not yet added to RecurPost and the ones that say Remove means they are already added.
Click on the Add button and that social account will be connected to RecurPost.
Important: When you are adding your account you will be asked for permission. For instance, Facebook will ask you if you want RecurPost to post on your behalf, read your information, etc. Please allow those permissions as we can't post on your behalf if you refuse to give our app those permissions.
We also have a video tutorial on adding social accounts.