What Is an AI Feature?
AI content generation is an AI feature that involves the ability of artificial intelligence systems to create or produce human-like content such as text, images, or videos. It uses advanced algorithms and models to generate content based on input data, patterns, or specific instructions.
In simple terms, AI content generation works like a smart writer or artist. It can take information, prompts, or ideas and produce original content that resembles what a human might create. For example, AI can write articles, stories, or product descriptions, create artwork or designs, and even generate realistic-looking photos or videos.
AI content generation can be a powerful tool for various applications such as marketing, content creation, and creative endeavors.
Using RecurPost AI Feature
If you are tired of spending time with blocks to writing or striving to compose the perfect post, we have got just the thing! RecurPost's AI feature can help you create new, compelling content in seconds.
Give RecurPost's AI feature a single request, and it will assist you in crafting replies, populating countless post variations, and repurposing your content in a single click, allowing you to focus on the exciting stuff. Consider RecurPost's AI feature to be a capable ally, eager to make your ideas shine!
AI feature at RecurPost can help you find content based on your interests and preferences. The content curated with AI can help you find the most engaging and relevant content to share with your audience which could have been difficult to achieve in a short span.
Instead of searching for more ways or information to boost your posts, you can take advantage of the AI feature inside RecurPost and optimize your social media content by getting the right hashtags and captions for a post.
The AI feature within RecurPost is facilitated by ChatGPT – OpenAI. To ensure that the use of this feature is accessible to all, a credit system has been implemented. Every instance of AI use for the purpose of content curation will result in a single credit being deducted from your balance.
Note: You can always buy AI post-credits per month for $10 per month and 1 credit can be used to write 1 post.
Suggestions for writing a fantastic prompt:
Make your point.
Share information about yourself or your company.
Include information such as:
– The social media outlet where you are posting
– The topic you are interested in
– Details about your target audience
Instead of stating "Write a tweet about the trip," you may say "Write a tweet encouraging more women to travel alone."
In this article, we will see how you can use the AI feature to generate exceptional captions for your post.
You can either create a one-off post or add the recurring post indie the library. In this example, we will try to create a one-off post by clicking on the 'Share a Post' option on the Dashboard.
2. Click on 'AI content' button and then enter the content of your choice to generate an AI post.
3. Here's how you can enter your topic or content for which you need to curate post via AI feature. You can get 3 credits in total initially (one per post) but you can buy more using add-ons.
4. Once you are done editing your post then you can select your social account and schedule it for later or post it right away.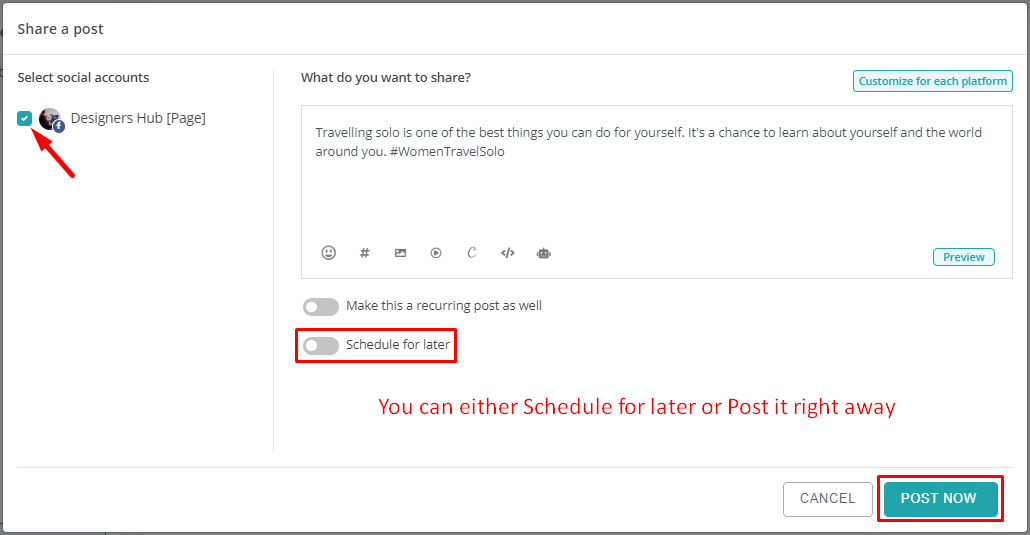 Similarly, you can do the same thing when adding your recurring post to the libraries.
How to generate an image using AI in your post?
AI image generators can create images based on the text you provide. It's a powerful tool that can turn your ideas into visual representations. With our AI image generator, you can easily generate the perfect image even if it doesn't exist yet.
Just type in your text prompt, such as "Design an image of Air Force aerobatic team display in the beautiful sky". Then, witness your words come to life as beautiful images that can be used for any of your creative projects.
Let's see how to add an image in RecurPost with the help of AI features in your recurring posts and one-off.
Start with creating a recurring post or one-off post, click on the image icon and then choose the "Generate using AI" option.
2. Now enter your prompt (text) from which you want AI to generate the image for you as shown below.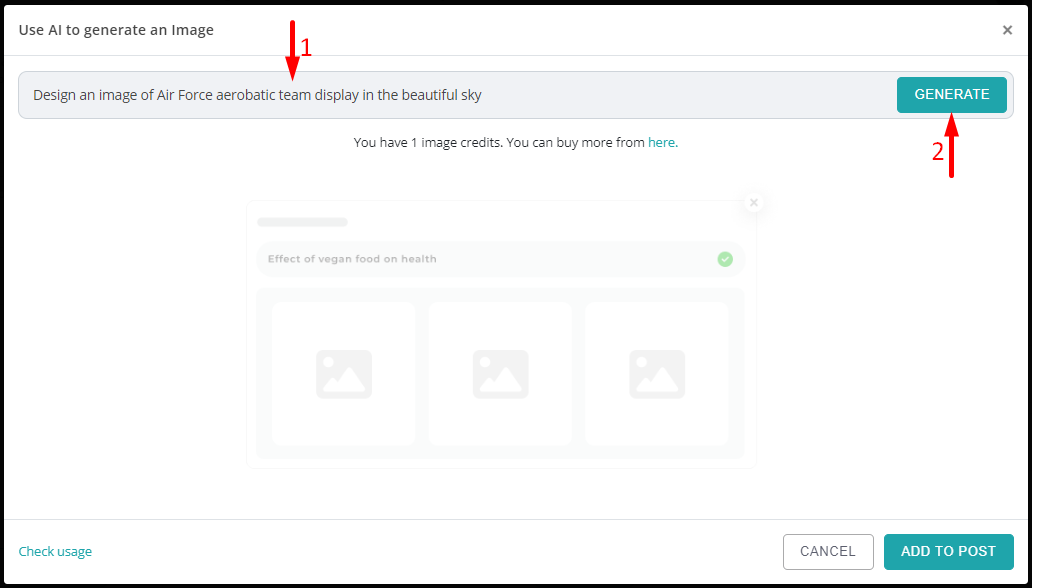 3. After selecting the image(s), click on "Add to Post" and your images will be uploaded to the post and then you can click on "Add to Library".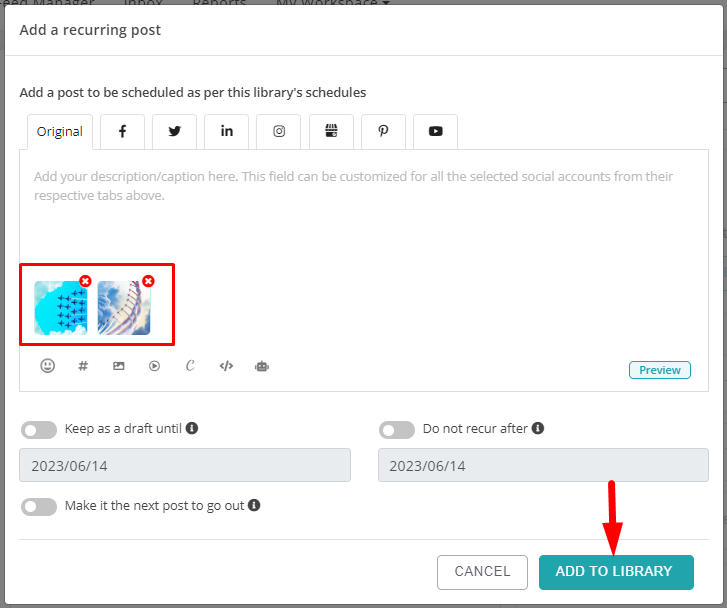 Note: Multiple images can only be added to some of the social media accounts. To learn more about the social accounts supporting multiple images in a post you can check out our help page here.
We hope this information is helpful to you. In case you have any questions or need help with AI posting then please reach out to us at support@recurpost.com.