While creating a recurring post or one-off post, RecurPost allows you to add "multiple images" and also customize captions for each social media platform.
Multiple images uploading guidelines for different social media platforms are as follows:
| | | | | | | | |
| --- | --- | --- | --- | --- | --- | --- | --- |
| | | | | | Image | Video | GIF |
| | Facebook | | | | * ✓ (15) | ✓ (1) | ✕ |
| | LinkedIn | | | | ✓ (9) | ✓ (1) | ✓ (1) |
| | Twitter | | | | ✓ (4) | ✓ (1) | ✓ (1) |
| | Instagram | | | | ✓ (10) | ✓ (1) | ✕ |
| | Google My Business | | | | ✓ (1) | ✓ (1) | ✕ |
| | Pinterest | | | | ✓ (1) | ✓ (1) | ✓ (1) |
1 image per post can be posted on Facebook Profile, Google My Business and Pinterest board.
4 images per post can be posted on Twitter
9 images per post can be posted on LinkedIn
10 images per post can be posted on Instagram (Please note, we don't support carousel yet but this will be added soon)
*15 images can be posted on Facebook Group and Page only (Please refer to the above table for FB Group and Page)
This process of adding multiple images and customizing captions is the same for creating a one-off post and a recurring one.
How to add multiple images and customize captions
Let's say you are creating a one-off post. On your RecurPost dashboard page, click on the button saying 'Write a Post'. A pop-up will open where you can add all the nitty-gritty of your post.
First, select all the social accounts on which you want to upload your post. As you select the social accounts and click on "Customize for each platform" option, their tabs will appear beside the 'Original' tab. Now, in the 'Original' tab, you can add the message that you want to be common on all the social media platforms. To customize it for all the selected social media platforms, click on their respective tabs above the message field.
Here are some instructions for writing captions/messages for each social platform according to their native guidelines:
For Facebook, you can write up to 5000 characters in the caption.
For Instagram, 2200 characters are allowed and you can also add up to 30 hashtags while creating Instagram posts.
Twitter allows to use up to 280 characters in a tweet.
For LinkedIn, you can write up to 3000 characters in a post.
In the GMB post, you can write up to 1500 characters.
While creating a post for Pinterest you are allowed to use up to 100 characters in the 'Title' and 500 characters in the 'Description'.
Next, to add images, click on the image icon beside the hashtag icon. If you upload multiple images while being in the 'Original' tab, you might see a red indicator in some social accounts tabs. For example, when you upload more than one image, you will see a red indicator on your GMB and Pinterest tabs, as only one image can be posted on these accounts.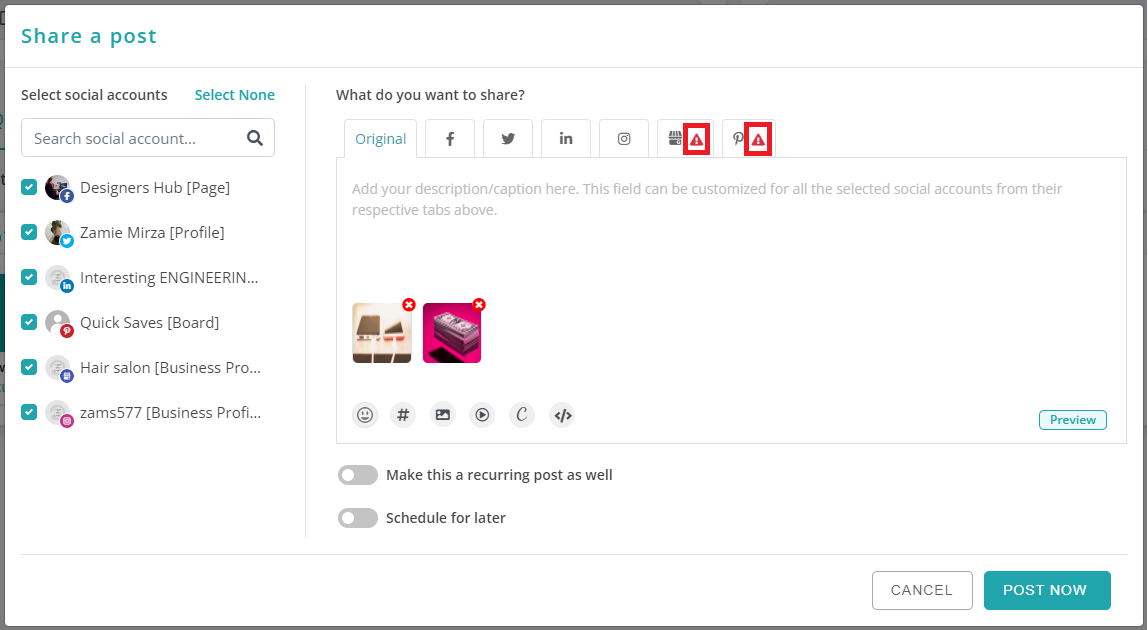 In order to fix this, select the concerned social account tab, remove the images that you don't require, and keep only one image for these social platforms. You can also upload different images for different social accounts from their respective tabs.
After adding images, writing captions, including hashtags or adding the first comment, you can preview the post to see how it will look after it gets uploaded on each social media platform.
The preview will look something like this:
Once you are done with uploading the images and editing the post you can go ahead and schedule the post as per your requirements or post it right away.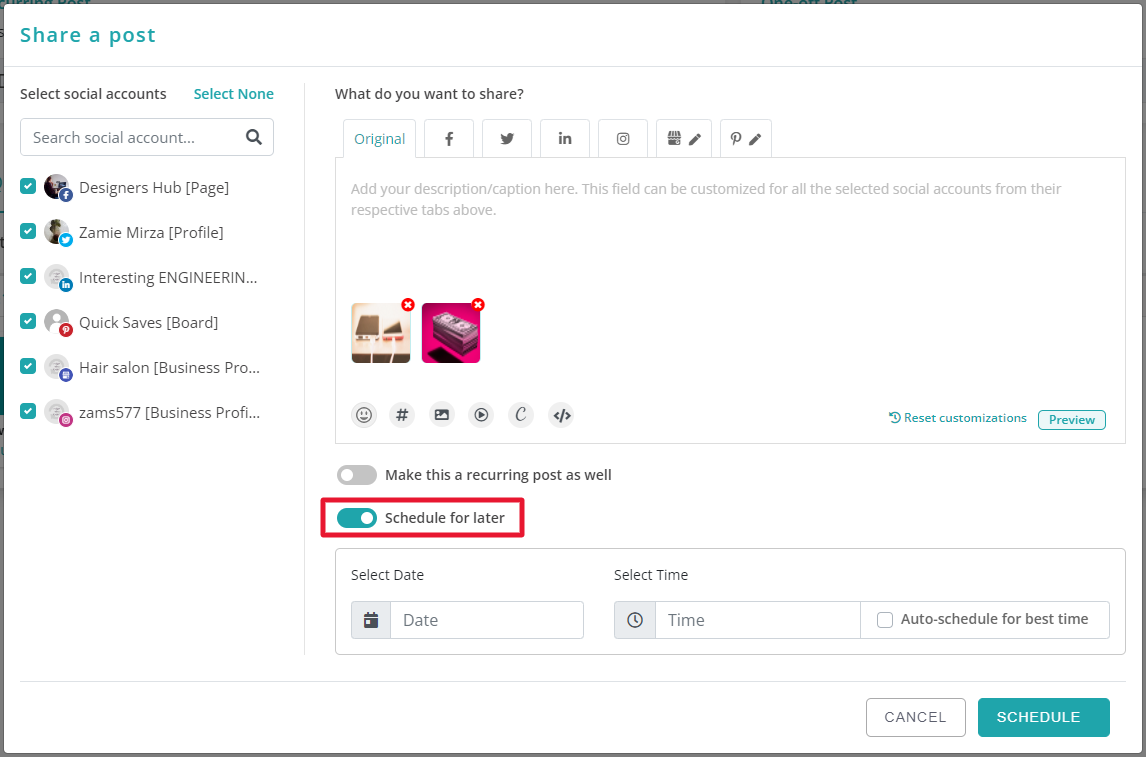 In case of any queries, feel free to contact us at support@recurpost.com.