RecurPost is a social media scheduling tool that allows you to automatically share your posts at the best time, saving you countless hours and increasing your social media engagement every week. RecurPost not only allows you to schedule your content for a later date, but you can also create recurring schedules. Apart from the basic features of a social media scheduler and automation tool, RecurPost offers a lot of amazing additional functionalities to improve your online presence.
We have designed our pricing plans in such a way that every user gets all the important features required for seamless social media scheduling. In order to let you have a taste of what you're going to get from RecurPost, we offer a 14-day free trial period for all our users. During this period, you can check out all the features and get familiar with our social media scheduler's interface.
To start your free trial period, you simply need to sign up for a RecurPost account and select any plan of your choice. If you wish to discontinue, you can cancel anytime before 14 days and we'll not charge you anything.
Schedule a session with our team:
We know that learning about a new tool's features can be time-consuming and boring too. Therefore, after you start your trial period, you can schedule a one-on-one session with our customer support team. In that call, we'll guide you on how to use RecurPost and manage your social media through our scheduler.
Here's how you can use the 14-day free trial period to the maximum:
1. Connect the social accounts that you wish to manage
When you begin your trial period, the first step will be to connect your social accounts. You can add the following social accounts to RecurPost:
Instagram Business (non-creator) profiles
Instagram Personal (creator) profiles
Facebook Profiles
Facebook Groups
Facebook Pages
LinkedIn Profiles
LinkedIn Company Pages
Twitter Profiles
Google Business Profiles
Pinterest Boards
To know how to connect a social account, refer to this guide.
2. Create one-off posts
One-off posts are the ones that go out on your social accounts just once (not in a recurring manner). RecurPost allows you to post text posts, images, GIF, and even videos on your social media profiles. A one-off post can be created straight from your Dashboard or Queue page. You can enter details like Message/description/caption, media, or URL, and select the social accounts on which you want to share the post. If you are falling short of original images to post, you can even select an image from RecurPost's free stock image library.
3. Create content libraries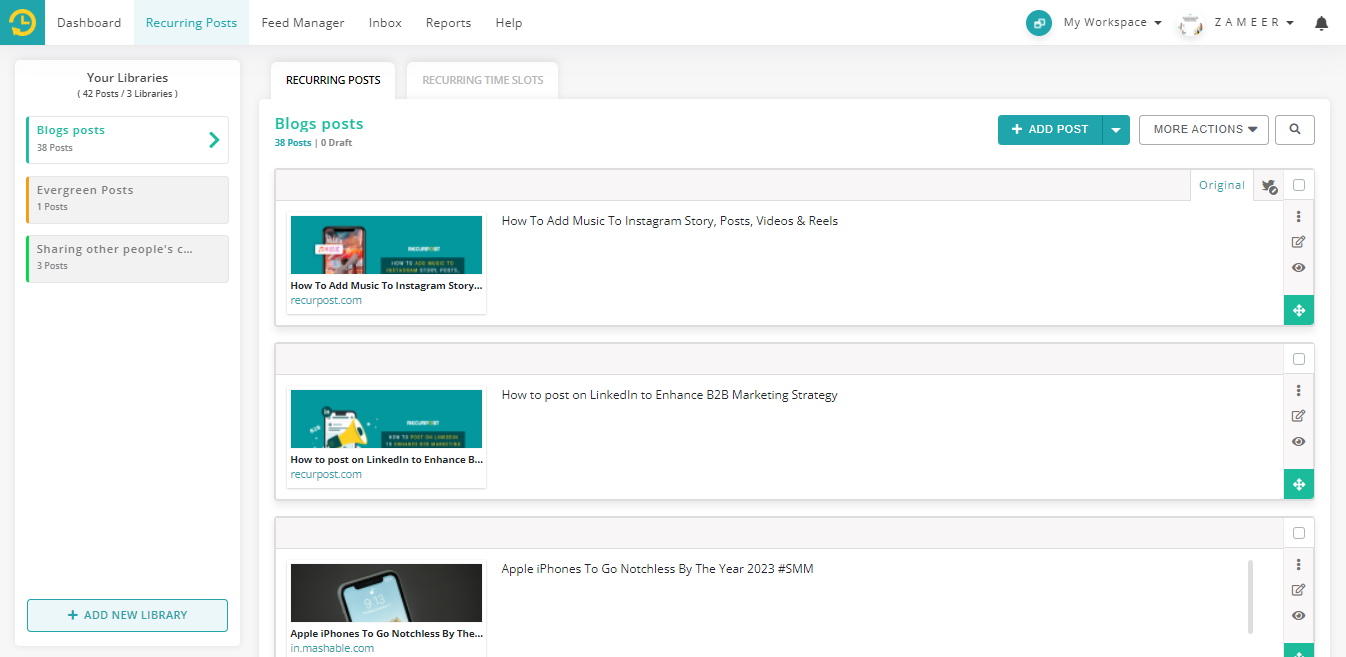 To help you find and organize your content easily, we allow you to create an unlimited amount of libraries such as My blogs, Other people's content, Shareable quotes, etc. You can create both, one-time use libraries and recurring libraries. The content added in recurring libraries goes out on your social accounts in a loop. This keeps your content evergreen and helps you gain traffic from the same content again and again. To know how to add a content library, click here.
4. Fill content (recurring post) in libraries
Using RecurPost, you can create loads of posts in just a few clicks. The bulk scheduling feature allows you to effortlessly schedule multiple posts in advance. RecurPost provides a lot of options to upload your content in bulk. You can add bulk text/link or image posts, import content through a CSV/excel file, import content from an RSS feed, or import content from a social media account. Click here to see how to upload content in bulk.
5. Set recurring timeslots for your libraries
To share all the posts that you added in the libraries, you need to set a schedule. You can either post them once or set a recurring schedule according to your business needs.
In case of recurring schedules, once a post has gone out to your social account, it moves back to the end of the line of content waiting to be posted again when all the other posts have gone out, and the cycle continues. This way, you'll be able to generate new traffic without having to write new content every time. This works best for promoting your own blogs, new as well as old.
6. Auto-schedule for best times
Posts can be posted right away or scheduled for a time in the future. If you are not sure about the time to post, simply select the option of 'Auto-schedule for best time'. We'll study the engagement on your social accounts and schedule your post when your audience is active and most likely to interact with your content.
7. Dig into analytics
RecurPost provides you with advanced analytics that lets you know about the performance of posts shared on your social accounts. You will be able to see engagement received on every social platform in the form of likes, comments, shares, retweets, views, and clicks. You will be able to check which library's content received the highest engagement. Along with this, you'll see your top 5 posts that performed the best in a given period of time. RecurPost also shows you data related to your audience – the country from where they belong, their age group, and gender ratio.
8. Generate white-label reports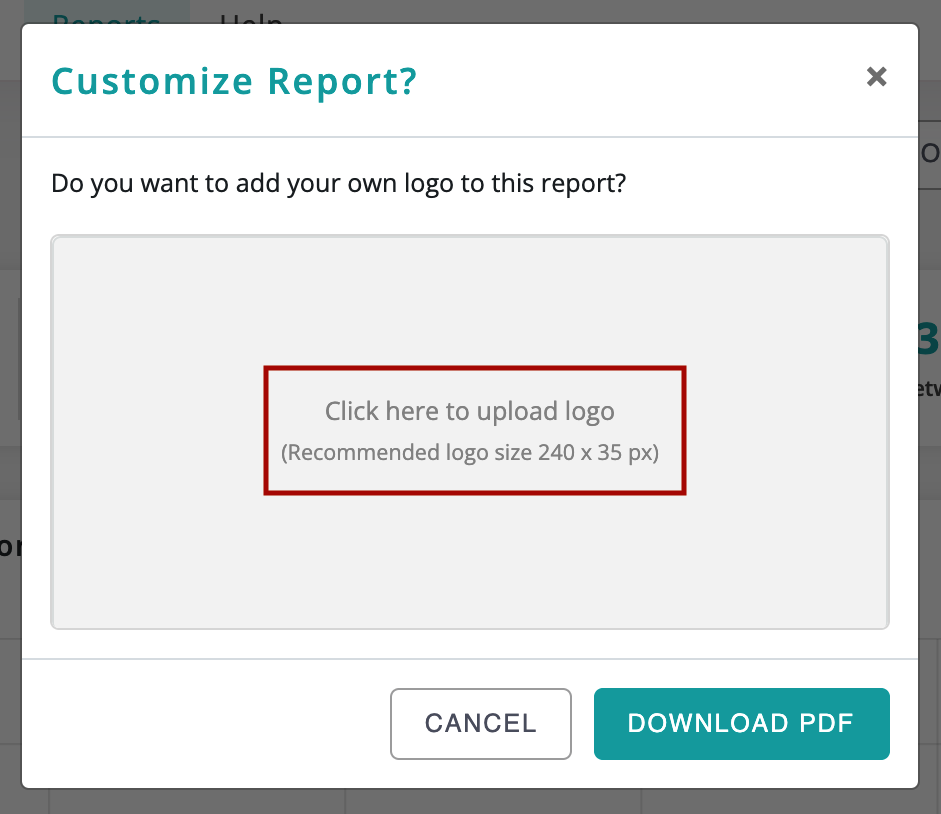 Through our White Label social media reports, RecurPost provides you with one of the best ways to professionally brand your business. You can use your own company logo or your clients', giving out the idea that you pay attention to the details. In just a single click, your reports will be downloaded along with the logo of your choice, saving you hours of work spent in preparing reports for clients and team members.
9. Work with your team members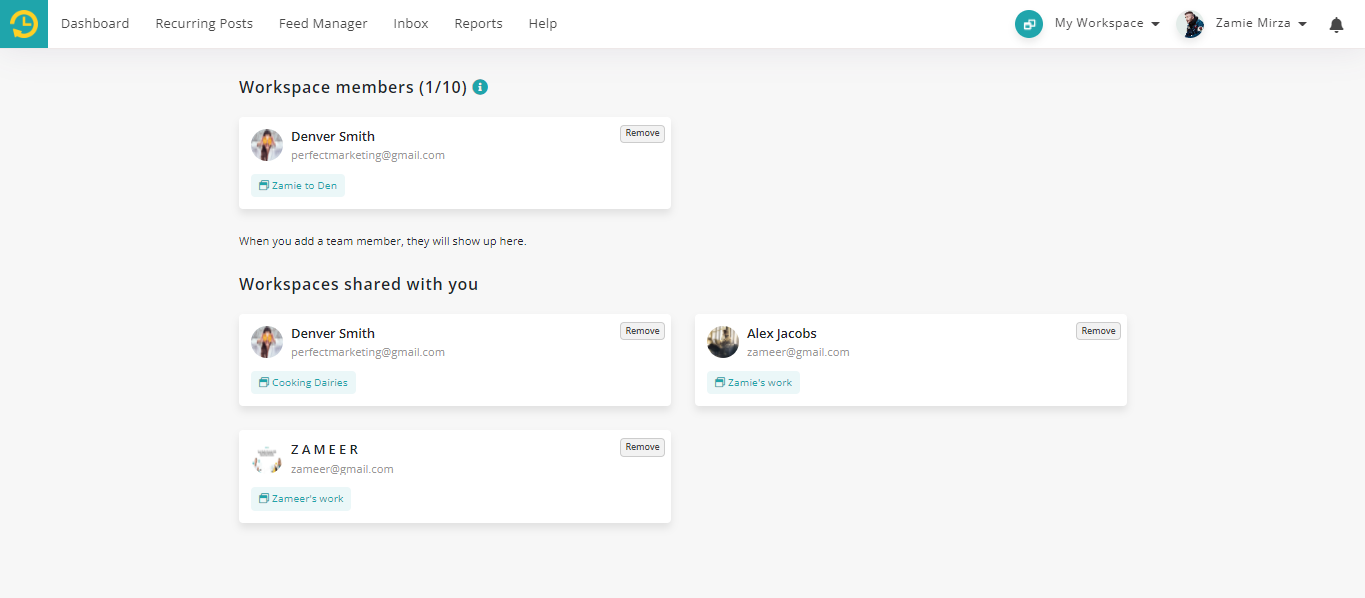 A task done in coordination is a task well-done. Following the same belief, our social media scheduler allows you to add, manage, and work with your team members or clients so as to gain maximum control and efficiency in your workplace. You or your clients no longer need to share their personal account details to keep a check on your team members. Our intuitive feature allows you to easily understand who's working on what.
10. Use the social inbox
Social Inbox by RecurPost is a platform that enables all of your social media inboxes to be connected into one single unified dashboard. It allows you to manage notifications from all social media sites from a single place. It enables you to watch all your chats, mentions, comments, and conversations, and take action on them. You can easily serve all discussions in one feed, instead of having to log in to each social account separately or choose to concentrate on select networks with a sorting option.
So, what are you waiting for? Sign up now for the 14-day trial and experience the best social media scheduling features with RecurPost!