What is a Social Inbox?
Social Inbox is a platform that enables all of your social media inboxes to be connected into one single unified dashboard. It allows you to manage notifications from all social media sites from a single place. It enables you to watch all your chats, mentions, comments, and conversations, and take action on them. You can easily serve all discussions in one feed, instead of having to log in to each social account separately or choose to concentrate on select networks with a sorting option.
The social inbox can be a real time-saving tool for businesses who need to keep track of their brand online or offer help via social media platforms. In today's time, consumers expect quick and real-time responses to all their queries. And a unified social media inbox can help you do just that. It allows you to reply to your customers/followers promptly, which ultimately augments engagement from end-users. 
Why is a Social Inbox essential for your brand?
An all-in-one social media inbox can be helpful in numerous ways when used to its full potential. Below are some reasons why you should pick up a social media scheduling tool offering the best social inbox.
1. Establish a connection with your followers
Gone are the days when brands took hours or days to get back to a customer to solve their queries. In today's times, people want to be heard quickly. They prefer a brand that responds to their questions or comments instantly. And when you use a social inbox, you'll receive all your important notifications from multiple social media sites on a single dashboard. 
Thus, you can quickly see and respond when a customer/follower comments on your post or mentions you in their tweets.
2. Manage notifications along with your team members
When you use a social inbox, you'll be able to assign certain notifications to different team members. Thus, the responsibility can be delegated and all the notifications can be taken care of in less time. Also, you can do this without the need to share the credentials of your social accounts with your team members!
3. No distractions from unwanted notifications
Using a social inbox, you can take care of your comments and replies from within the interface of the social media scheduling tool you're using. You don't have to hop on the actual social sites to manage them. It saves time from the unnecessary scrolling and distractions that can be caused by social media in general. 
How to use the Social Inbox feature by RecurPost
RecurPost's Social Inbox feature is live and we can't wait to show you how it can be used to take social media management to the next level!
When you use RecurPost, almost all of the notifications that you receive on your social media accounts show up in the Inbox dashboard. This is a major benefit when it comes to simplifying things, and our Inbox assistant takes it one step ahead. It consolidates your notifications and minimizes clumsiness – thanks to the automated moderation feature it provides.
Comments can be flagged for review, delegated to a team member, concealed, or even deleted depending on what you want. You can even bookmark or add labels. There's just so much you can do with your Social Inbox!
Let's see how you can use the social Inbox and the features it offers.
1. Getting started with your social inbox
Login to your RecurPost account and click on the Inbox tab. Your screen will look something like this:
On the left-hand side panel, you'll be able to see all the social accounts that you have connected to RecurPost (for which social Inbox is available). The number alongside a social profile in a red circle indicates the number of notifications left to review for that particular profile. 
Note that RecurPost supports Inbox functionality for Instagram Business profiles, Facebook pages, Twitter accounts, LinkedIn Company Pages, and GMB listings. Inbox is not available for Instagram personal profiles, Facebook profiles, Facebook groups, and LinkedIn profiles.
When you start using RecurPost's social inbox for the first time, we'll fetch and show data for the last 30 days.
2. General features of RecurPost's social inbox
a) Refresh the inbox:
In case you want to refresh the notifications in the inbox, you don't need to refresh the entire page. Simply click on the 'Refresh' icon as shown below.
b) To review:
This tab will consist of all the notifications that are left to review for the selected social media profile. You can select any notification and assign it to other team members to review (adding team member is a feature available in paid plans) or you can select any notification and add a label to it. Adding labels is useful when you wish to categorize your notifications.
c) Assigned:
This tab will show all the tasks that have been assigned. Here too, notifications can be selected and assigned to others or reviewed.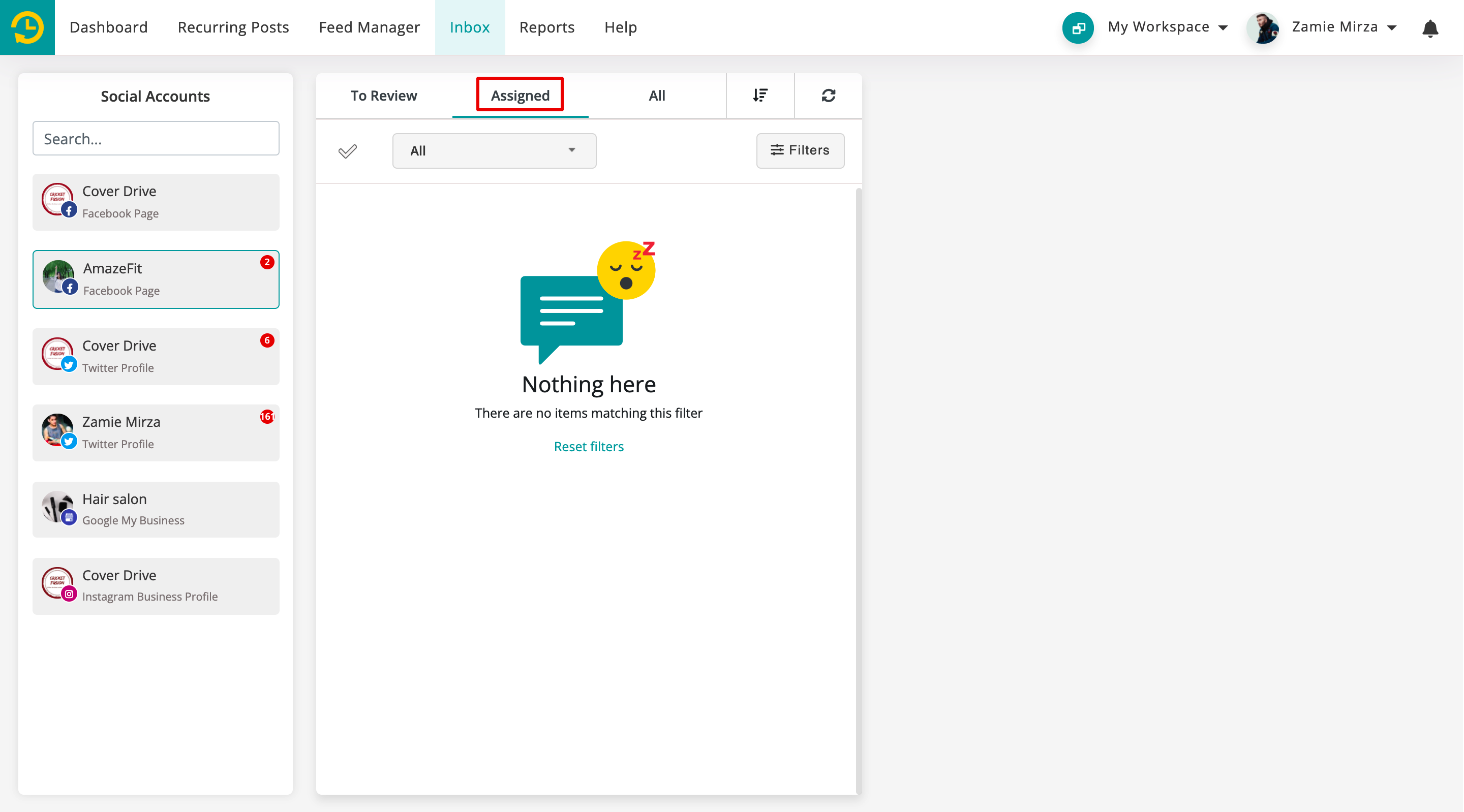 d) All:
This tab will also allow you to select notifications and take bulk actions like assign, add label, or review. It will show all the 'To review' and 'Assigned' notifications together.
e) Label:
The label icon under the 'Filters' lets you filter the notifications by labels added. You can create new labels, edit, or delete them by clicking on this icon.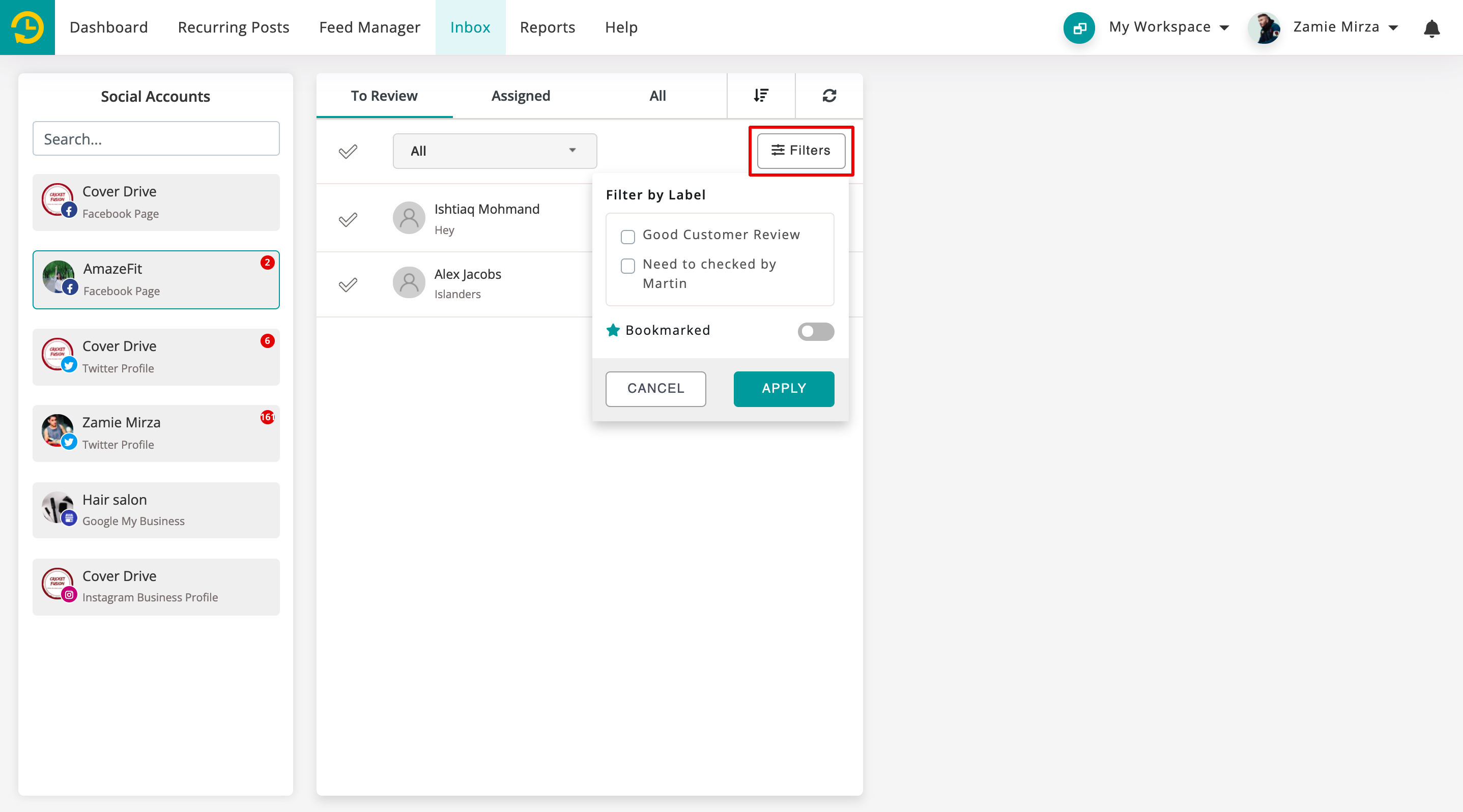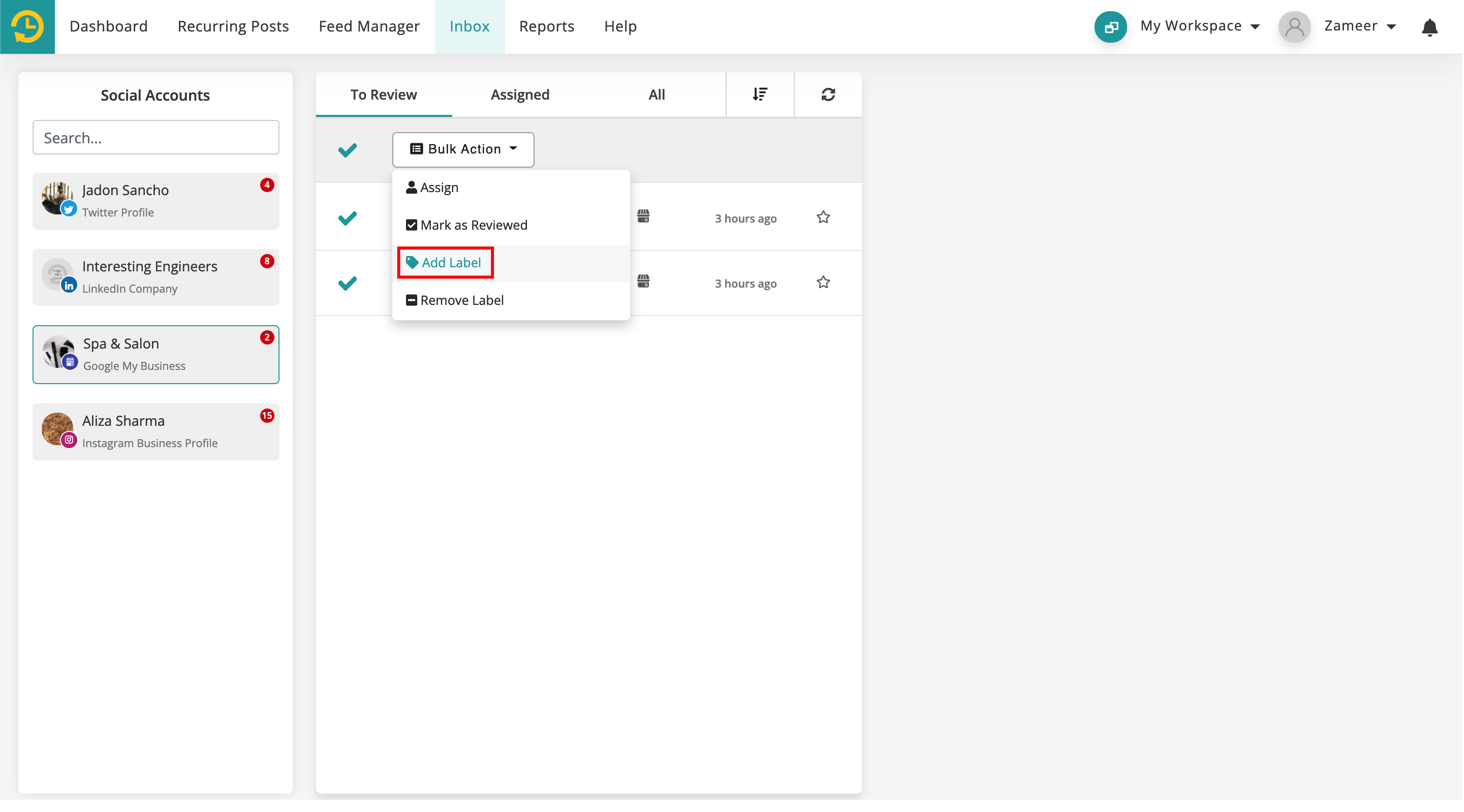 f) Filter by time/favorites:
Under every section of 'To review', 'Assigned', or 'All' tab, you can sort the notifications by time [newest or oldest] or see the notifications that you've marked as favorite.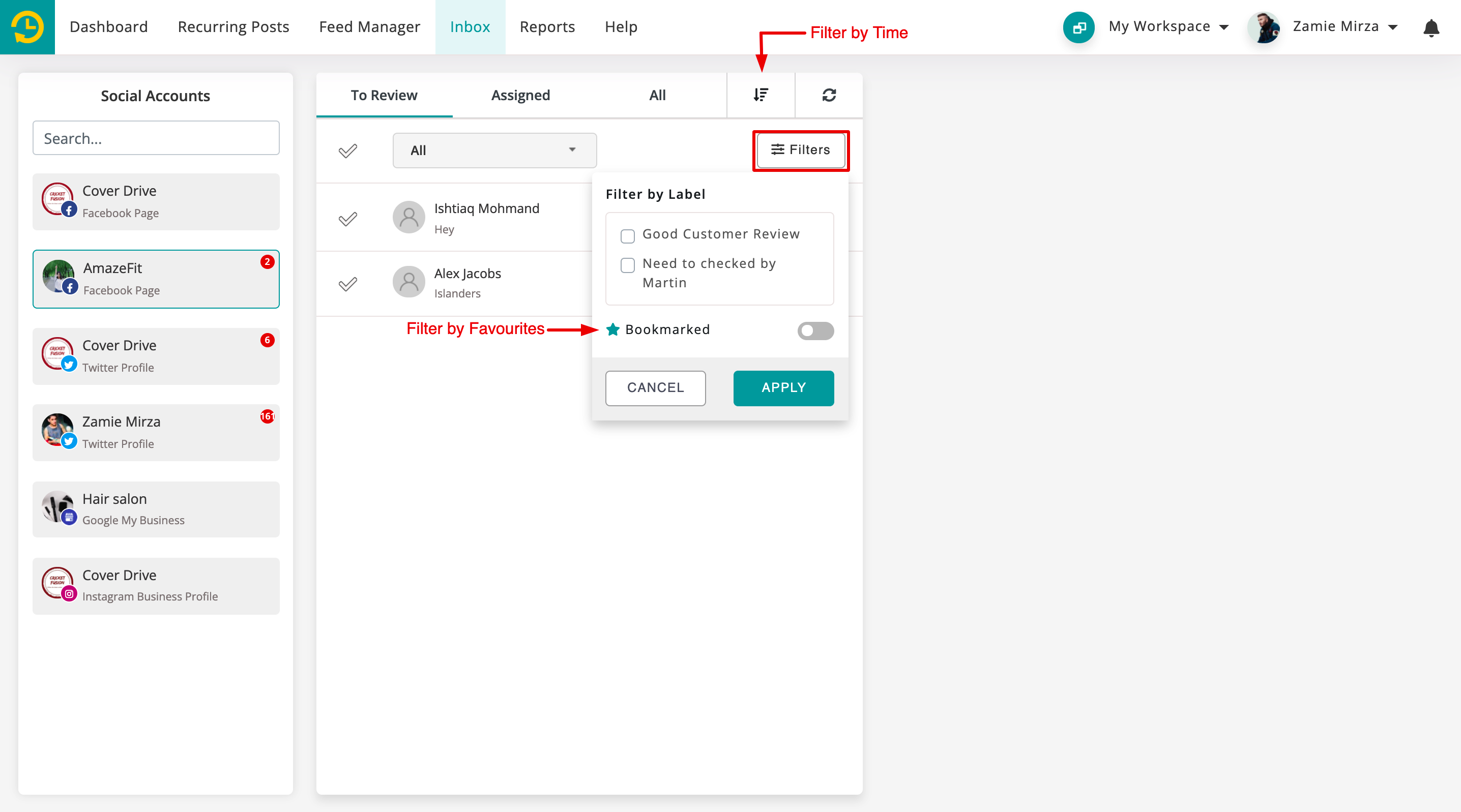 Now, let's see the features available in the social inbox for different social media platforms.
1. Instagram Business Profiles 
Manage comments: All the comments that you receive on your posts will appear in the Inbox too. You can like them, reply to them, or delete them from here itself. Right below the comment itself, you will also see options to assign them to a team member, review, add label, or add to library.
Note: The reply feature is only available for paid RecurPost accounts. Also, Video posts can be added to library only from paid RecurPost accounts.
2. Facebook Pages
Manage Messages: Whenever you receive a message on your Facebook page, it will show up in RecurPost Inbox too. You will be able to reply to that message by adding text as well as by uploading media from your device straight from RecurPost. Isn't that great that you don't have to hop actually on FB to reply to messages? 
Also, at the top of the chat window, you'll be able to see the total number of comments that the user has made on your profile, the number of messages they sent you, and an option to block the user.
Note: Messages can not be sent from RecurPost's social inbox after 24 hours. You'll need to reply from your Facebook account itself.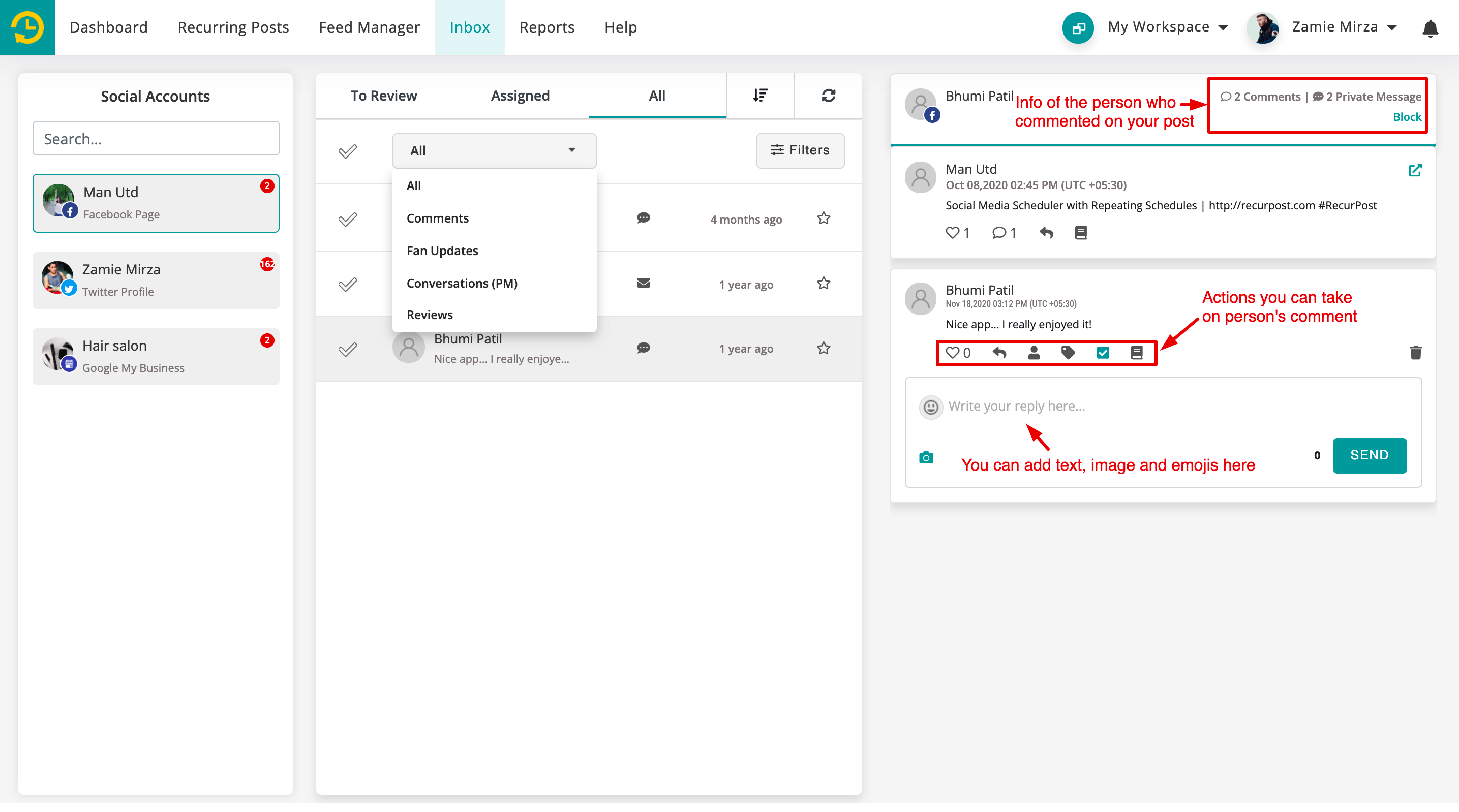 Manage comments: Just like for Instagram business profiles, comments can be managed for FB pages too. You can like, reply to, delete, assign, add a label, or review the comments.
Manage reviews: All the reviews that people leave for your Facebook page can be managed from here itself.
Manage Fan updates: When someone posts an update on your page, a notification will appear in your RecurPost inbox. So basically, every activity that you carry out on your FB page can be managed from this dashboard directly.
3. Twitter
Manage conversations (DMs) and mentions: Just like you can do on Twitter, all the conversations can be taken care of from RecurPost's social Inbox. Also, when people reply to your tweets or mention you in a tweet/comment, you can see them here. You can take the following actions on mentions: Like, retweet, reply, reply in DM, assign, add a label, review, add to library, or delete.
On the top of the right-most panel, you can see the user's name and profile details, including their number of followers, following, number of mentions made by them, option to unfollow, and the number of DMs sent by them to you.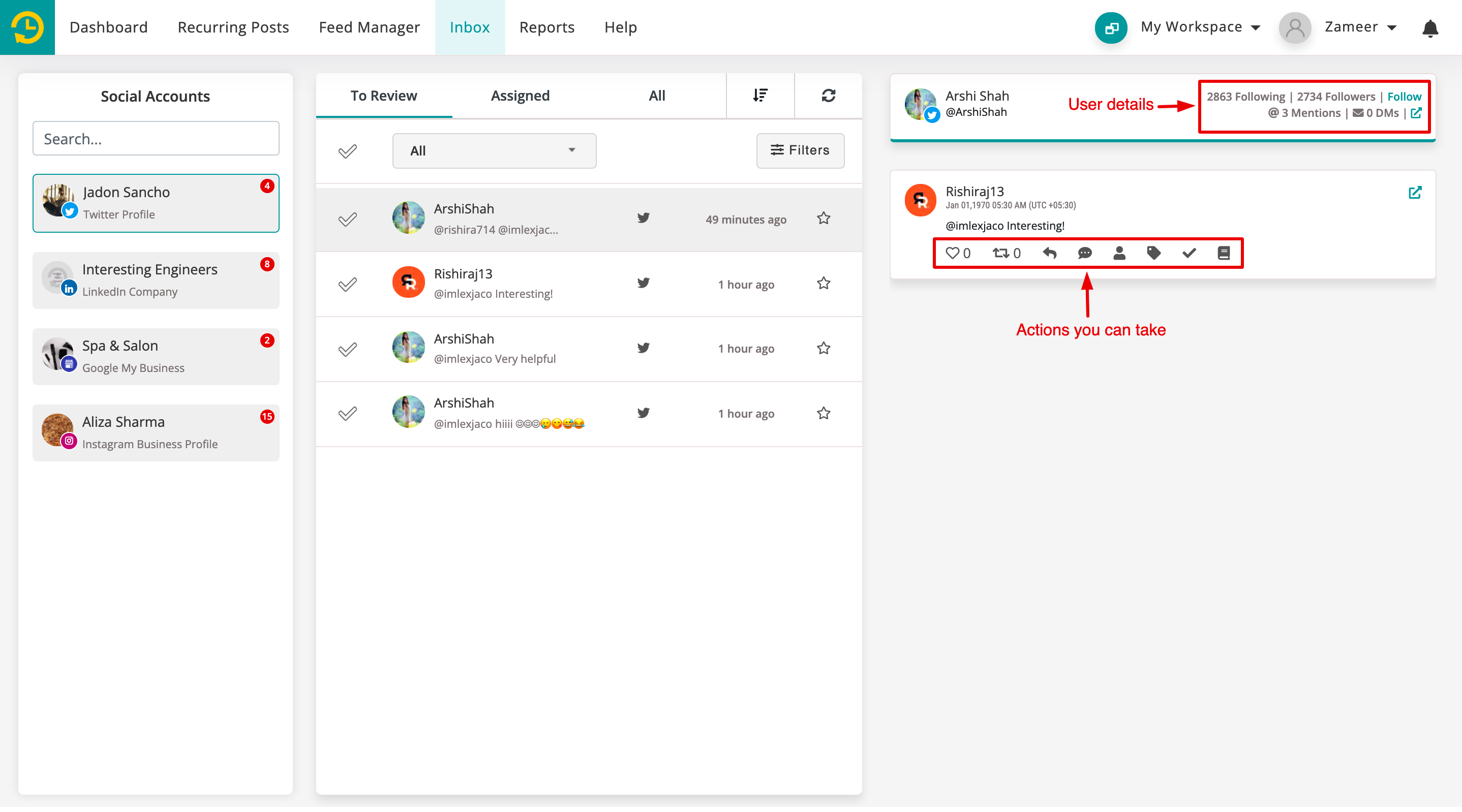 4. LinkedIn Company pages
Manage comments: For your LinkedIn company pages, you will receive all the comments that are made on your posts. Just like in other social media platforms, here too you can like the comments, reply to them, assign to a team member, review, add a label, delete, or add to a library.
5. Google my business listings
Manage reviews: This is the feature that you'll find only while using RecurPost's social inbox. In your Inbox, you can see notifications for the reviews that you get on your Google my business listing. You'll be able to reply to those reviews from here itself. After posting the reply, you'll also be able to edit it.
So this was all about the new Social Inbox you can access while using RecurPost. This will remove a majority of the 'feels-like-you'll-never-catch-up' moments from your social media schedule. Schedule effortlessly, and also manage important notifications without any distractions from your favorite social media scheduling tool!