There may be cases when you don't receive a notification on the scheduled posting time of your Facebook and Instagram profile updates. This could happen for a variety of reasons.
Let's take a look at them and see how to receive notifications for your updates through the RecurPost mobile app:
1. Your Device Is Not Registered
You will not receive the push notifications needed to post on Facebook profiles and Instagram profiles if you don't have the RecurPost app installed on your mobile device and aren't logged in. To download it, simply head over to Google Play Store or Apple App Store.
Once downloaded, launch the app. You will be asked to log in to your RecurPost account. Simply enter your email address and type in your password and hit 'Sign in'.
Once you have signed in, your device is registered and you're good to go. You'll now receive notifications at the scheduled posting time of your updates.
In case you deleted the app earlier, you need to reinstall it and follow the same procedure to regain access to push notifications.
2. Push Notifications are Turned OFF
It may be possible that your notifications for the RecurPost app are turned off by default. In that case, you'll have to turn them on manually.
To do so, touch and hold the RecurPost app icon and tap 'App info'. In the settings window, tap 'Permissions'.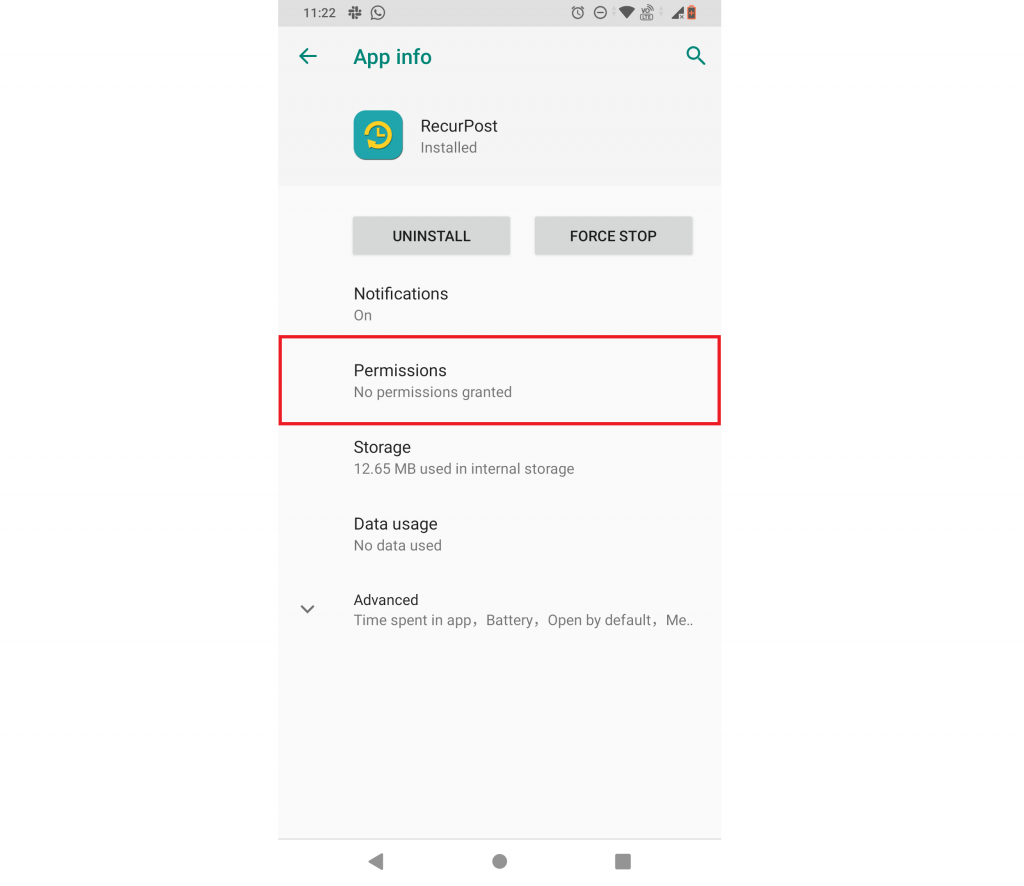 In the permissions window, make sure that your notifications are turned ON.
3. Your Mobile Device Has Been Reset
Resetting your mobile device can sometimes break the link between our servers and your mobile device.
To rectify this and regain connection, simply download the RecurPost app again and sign in with your account. You should be able to regain access instantly. Try it by sending a test notification either to your Instagram profile or your Facebook profile.
4. Your Battery Optimization Is Limiting App Activity
In some rare cases, aggressive battery optimization can hinder the functionality of the RecurPost app and make push notifications not appear.
To rectify this, simply go to your App Settings > Battery > Battery optimization > All apps (under the drop-down menu) > RecurPost > Don't optimize > Done.
Once you're done, try scheduling a demo post for the next minute to check whether or not are you receiving notifications from the app.
If the problem continues, restart your device and sign out of the app and sign in again. Doing so should allow the battery optimization changes to take place if they didn't do so before.
Thanks for reading this guide. If you have any questions, please contact us at support@recurpost.com or using our contact us form.