I want my post to go live on a specific day of the week recurringly. How do I set a schedule for that?
Let's answer this question with a little example. Let's say that you want to share a post on 'Monday Motivation' at every Monday on your Facebook Page at 9:00 AM. To do this, you are going to need a recurring schedule.

First, create a new library from Recurring Posts.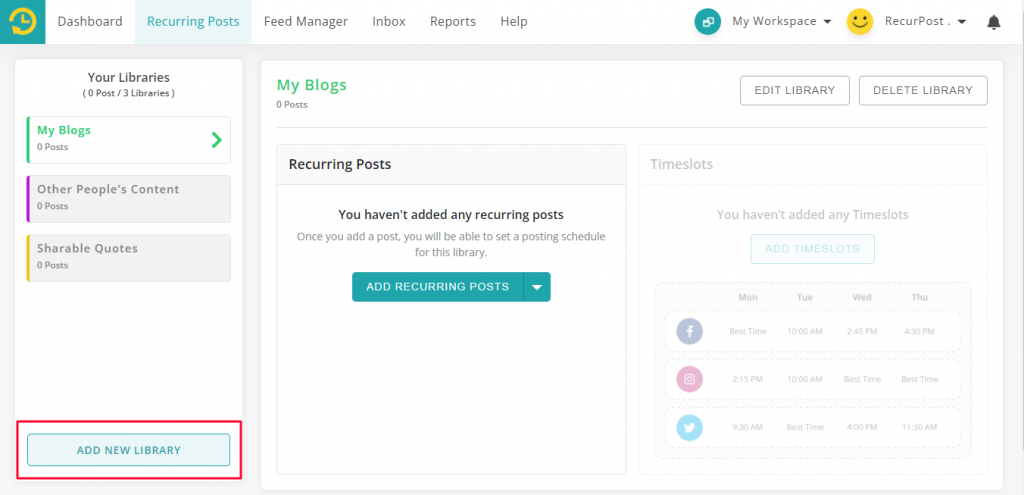 Now, add a post in this library containing your message and/or image. This message and/or image will be posted and visible to your audience. You can add one post at a time or you can add multiple posts with Add content in bulk option.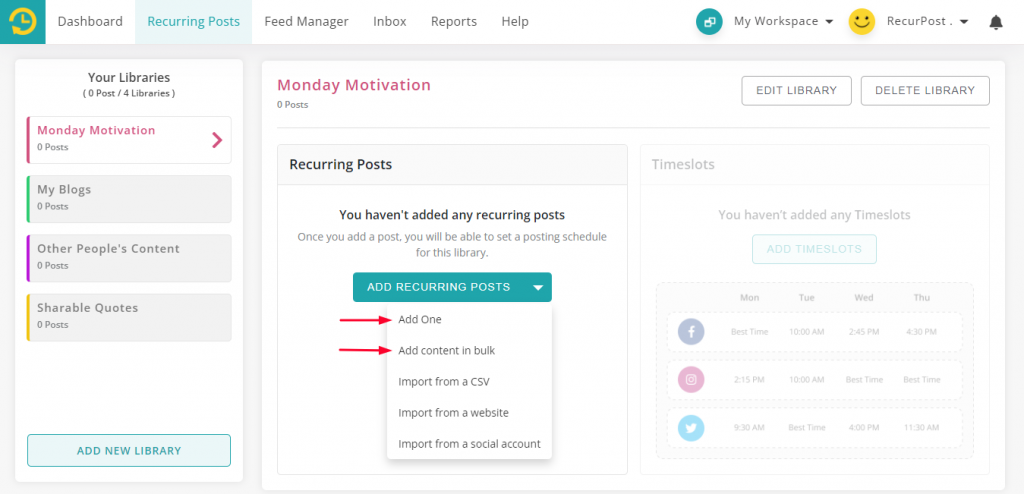 After that, head over to your RECURRING TIME SLOTS tab and click on 'ADD RECURRING TIME SLOTS option.
You will see a pop-up like so:
This is where you will be setting up your schedule. First, select your social account that you want to post on. In this case, your Facebook Page.

Next, select your frequency i.e. how often you want to post. In this case, you want to post every Monday. So, click on 'Monday' under Daily/Weekly. After that, select the time at which you want to post. In this case, at 9:00 AM.
If you don't really know when you should post, you can also set a schedule for the best time. This means that RecurPost will automatically share your post at the time when it is most likely to receive the highest engagement.

Now, click on 'ADD TIME SLOT' and you're good to go. Your schedule is created and your post will now be posted every Monday at your selected time. You can make edits to this schedule later on if you wish.

You can add multiple posts in your library and set it up for schedule in the same manner.
Why I am not able to see my post in the Queue despite filling my content library and setting a schedule?
We run our scheduler once a day and it schedules the post for the next day. If you have added your schedule less than 24 hours ago, please give it some time. If it has been longer than that, you can get in touch with us.
My scheduled posts are being posted at the wrong time. What's happening?
It may be possible that the time zone you currently have set for your account isn't your actual time zone. Please head over to your Account Settings (https://social.recurpost.com/accountsettings/) and check whether you are in the right time zone. If it is correct and yet you see your posts going out at the wrong time, please get in touch with us.
How do I share YouTube links so that they play inline on Twitter?
If you want to share YouTube videos so that they play inline on Twitter, you need to remove the preview from RecurPost. When you add a YouTube link, we generate a preview that has the thumbnail of the video and its title as well as the description.
If you remove that, we will let Twitter handle the preview generation and it will resort to the default Twitter setting which is to show this video with inline playability.
Why did my scheduled posts not go out to my social account?
If you are a new user, please make sure your Time zone setting is correct. You can check your time zone by going to the Account Settings page.
You can go to the Account Settings page by clicking on your name in the top-right corner on desktop browser and by clicking on the hamburger menu on mobile devices.
In the case of a failed post, for instance, when a Tweet is more than 280 characters, you will get an explanation on the History page. The history page can be accessed from Dashboard on our website as well as our mobile apps.
You can fix this issue and schedule your post again.
Thanks for reading this FAQs. For more help, contact us at support@recurpost.com.