What is a RecurPost Inbox?
Inbox is a platform that connects your social media inboxes into a single streamlined dashboard. It enables you to manage notifications from your social media platforms from a single location. It allows you to monitor and respond to all of your chats, mentions, comments, and conversations. You can quickly serve all topics in one feed rather than logging in to each social account separately, or you can focus on specific networks using a sorting option.
Inbox can be a real time-saving tool for organizations who need to monitor their business online or offer assistance through social media platforms. Consumers nowadays expect immediate and real-time solutions to all of their inquiries. And a consolidated social media inbox can help you achieve just that. It helps you to respond to your customers/followers quickly, which increases end-user engagement.
---
For which Social Accounts I can see the Inbox?
According to the limits of the Social Media Platforms, we support the following social accounts in the Inbox.
Facebook Page.
LinkedIn Company Page.
Instagram Business Profile.
Google Business Profile.
---
How to Use the RecurPost's Social Inbox Feature?
When you use RecurPost, practically all of the notifications from your social media accounts appear on your Inbox dashboard. This is a significant benefit when it comes to simplification, and our Inbox helper takes it a step further. It gathers your alerts and reduces clumsiness with its automated moderation feature.
Depending on your preferences, comments can be tagged for review, assigned to a team member, hidden, or even deleted. You can also bookmark or labels. You have so many options with your Social Inbox!
Let's look at how to use the social Inbox and the capabilities it provides.
---
How to Get Started with Your Social Inbox?
Login to your RecurPost account and click on the Inbox tab.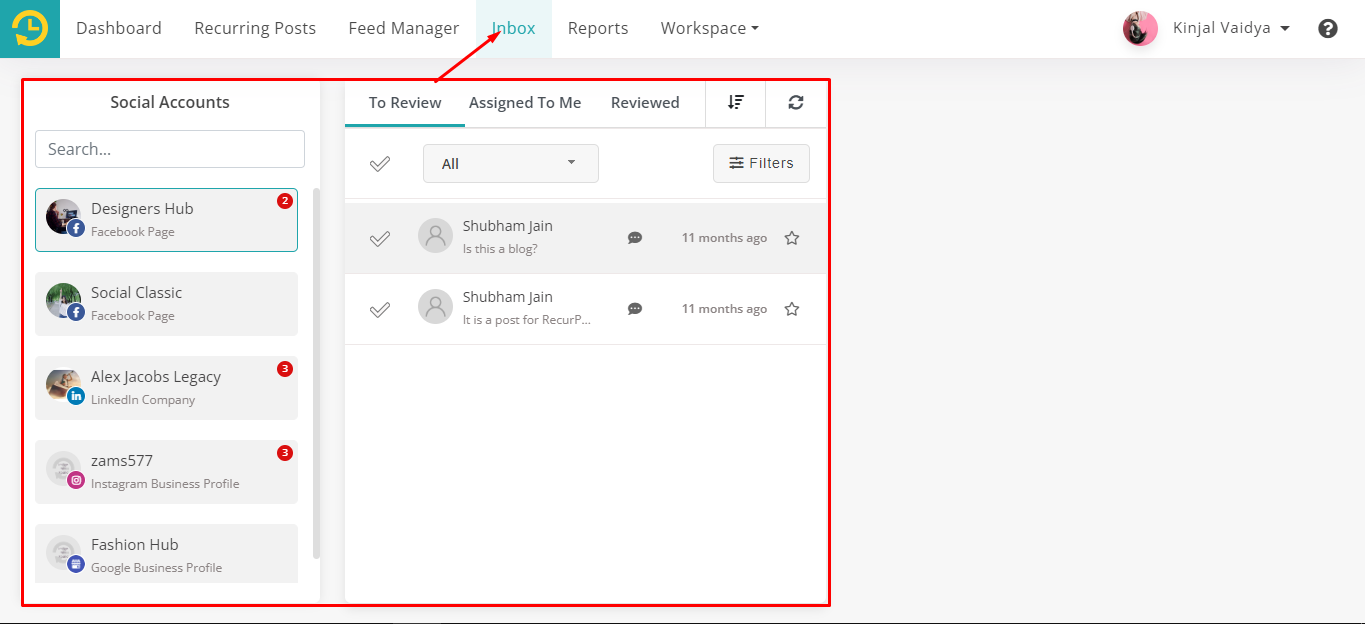 You can view all the social media accounts for which RecurPost offers social Inbox in the left-side panel. The number in a red circle next to a social profile indicates the number of alerts left to evaluate for that specific profile.
RecurPost's Social Inbox Features
To review – This tab will provide all of the alerts for the selected social media profile that have yet to be reviewed. You can choose any notification and assign it to other team members to review, or you can label any notification. Adding labels is useful for categorizing your notifications.
Assigned – This tab displays all of the tasks that have been assigned. Notifications can also be selected and assigned to others or reviewed here.
Reviewed – This tab displays all of the alerts and notifications that you have already viewed..
Label – Labels can be added, edited, or deleted. The label icon under 'Filters' allows you to filter notifications based on labels added.
Filter by time – You can filter the alerts by time [newest or oldest] or see the notifications you've marked as favorites in each part of the 'To review', 'Assigned', or 'All' tab.
Refresh notifications – If you do not wish to reload the entire website to refresh the notifications in the inbox. Simply press the 'Refresh' button.
Which Functions are Available in the Social Inbox for Various Social Media Networks?
1. Facebook Page
Manage Comments – This feature allows you to control comments for Facebook pages. You can like, respond to, remove, assign, label, or read the comments.
Manage Fan Updates – When someone updates your page, a notification will appear in your RecurPost inbox. So, basically, you can manage all of your Facebook page activities directly from one dashboard.
Manage Conversations (PM) – When you receive a message on your Facebook page, it will also appear in your RecurPost Inbox. You'll be able to respond to that message directly from RecurPost.
Note: Messages can not be sent from RecurPost's social inbox after 24 hours. You'll need to reply from your Facebook account itself.
Manage Reviews – All of the reviews left on your Facebook page can be managed from here.
2. LinkedIn Company page
Manage comments – You will receive all comments made on your postings for your LinkedIn company pages. Like other social media sites, you can like comments, respond to them, assign them to a team member, review, add a label, remove, or add to a library.
3. Instagram Business Profiles
Manage comments – All comments you get on your postings will also display in your RecurPost Inbox. You can like them, respond to them, or delete them. Right below the comment, you'll notice choices to assign it to a team member, review it, add a label, or add it to your library.
4. Google Business Profile listings
Manage reviews – This is a function available only when utilizing RecurPost's social inbox. You can see notifications for reviews on your Google my business listing in your Inbox. You'll be able to respond to those reviews right here. You will be able to edit your response once you have posted it.
We hope this information is helpful to you. In case you have any questions or need help with the RecurPost Inbox Feature, then please reach out to us at support@recurpost.com.