We apologize that you are running into this issue.
Before we let you know what is going on here, we would like to tell you why did we place this restriction here in the first place.
RecurPost supports small businesses and we have done that from Day 1. We used to have a forever free plan so that small businesses can enjoy the same kind of services that multinational giants do. (Please note, the free plan is no longer available as we don't support it anymore)
However, some people tried to misuse this free offering. They would manage 100s of profiles by creating 10s of RecurPost accounts. We tried to stop them by various means, but they somehow always found a loophole to work around our limitations.
After some thinking, we made a big decision. In order to make sure that our free services aren't exploited, we had to put in a restriction that at few times hurt genuine users.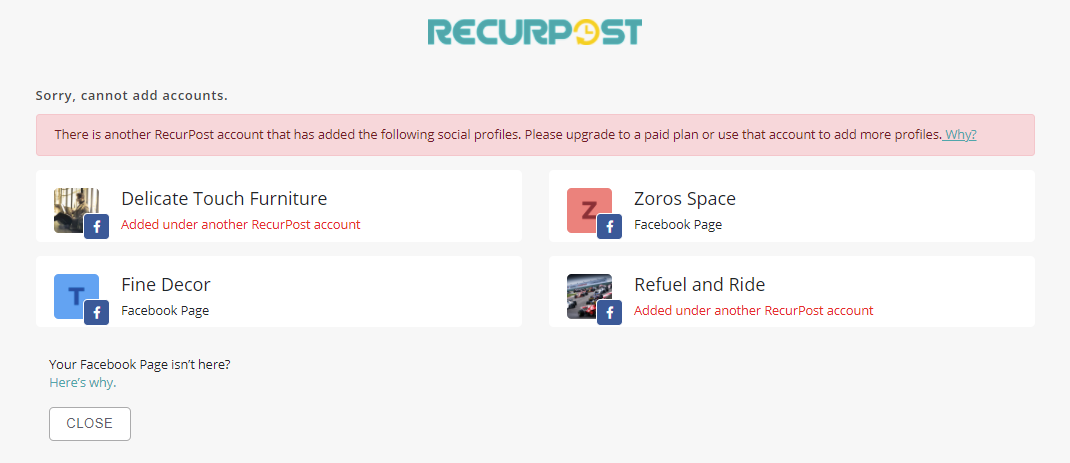 The limitation is that if you are admin of one page that is being managed under one RecurPost account, you cannot add any of your pages under another free RecurPost account.
When you try to add a social account, we will scan our database to see if we already have one of your pages under another account. If we find that there is another account with one of the pages you are affiliated with, you will see a message like the one shown in the image above.
In some cases, you may even see the error message when you try to reconnect your account.
If you have multiple pages, then you will see that message under all those pages that are added under other accounts.
You have two options at this point.
You can remove yourself as an administrator from the accounts that are managed by others.
You can upgrade your plan and reconnect your account.
Once you do any of the above two steps you will not see that error anymore.