We at RecurPost are always looking forward to bringing you the best scheduling services possible that let you manage all social media accounts from one place. One of the ways we do so is by innovating our interface design and making it more easily operable and seamless, and our social 'Queue' is a part of it.
RecurPost's social Queue is a whole new way to easily browse through, edit, and organize your social media posts in our new design for a fresh start!
Let's take a look at some of the changes we've made in the social queue and how it will help you accelerate your workflow.
Under the 'Dashboard' menu, you'll find two tabs:
1. Queue
2. History
1. QUEUE
The social Queue tab contains a list of all the social posts scheduled for you. You will be able to see which posts are about to go live on which social accounts and in what order. You can choose to view your posts either as a List or as a Monthly Schedule.
In the List view of the queue, you will be able to see all of your One-off posts (regardless of their scheduled time and date) and the Recurring Scheduled posts that are soon to be posted.
In the Month view of the queue, you will be able to see the same, but in a much wider and "zoomed-out" view. Your social posts will all be mapped out and organized according to the dates and days of the month.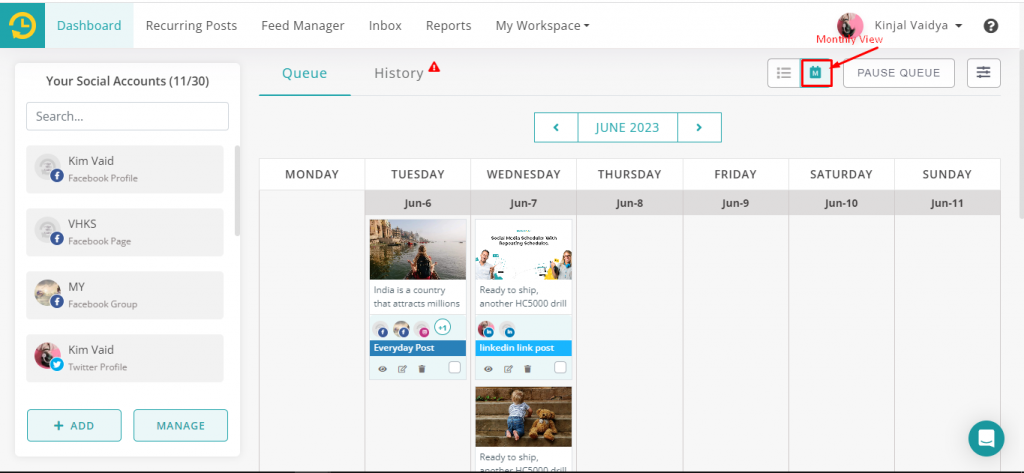 We queue social media posts as this helps you plan things out quickly since you'll have all your posts in your field-of-view, making it seamless and easy to interact with each post.
In the Queue tab, you can interact with the post in four ways:
You can view how your post will look on a particular social platform using the Post Preview button, denoted by an 'eye' icon.

Need to make any edits or last-minute changes in your post? You can do so using the 'Edit' button, denoted by a 'pencil' icon.
If you wish that your changes apply to all social accounts, simply click on the pencil icon beside the post like shown below and make the changes in the Original tab, and do not customize the other social accounts tabs:
If you wish to customize your post for a single social account without affecting the other accounts, click on the pencil icon to edit the post and then go to the respective social account's tab to make exclusive changes for it, like so:
If you no longer want to share a post that is scheduled on the Queue, simply click on the Delete button denoted by a 'trash' icon.
If you wish to delete the entire post, click on the trash icon beside the post. This means that your post will not be posted on any social account.

In case you don't want to post your post on a particular social account but want to share it on all others, you can remove it exclusively by editing the post, then click on the 'Delete Schedule' icon beside the social account which you want to remove from the scheduled post as shown below.
Similarly, if you wish to not wait till the scheduled time and need the post to go live instantly, you can post it right away by clicking on the drop-down option next to the social account and then hit on the 'Post Now' button. This means that we will share that post right away only on that particular social account and not the other accounts.
2. HISTORY
The History tab does exactly what it suggests. It shows you all your social posts that have been successfully posted on your social accounts using RecurPost.
It allows you to visualize and keep account of what you have shared with your users/customers so far so you can optimize and plan your marketing strategy accordingly.
Simply set the range of dates and RecurPost will show you all the posts that went live between those dates.

In the History tab, you can interact with the post in two ways:
If a post of yours did really well or failed to post on your social account due to any particular reason then, you might want to re-use it. To do so, simply click on the Reschedule button beside your post, denoted by a 'spinning arrow' icon.
You can then make changes or little tweaks in your post in the next pop-up window. Reusing and rescheduling a post is just like creating a new post.
You can rewrite your message, set up a new scheduling date and time, and preview your post so as to see how it will look on different social platforms. You can also auto-schedule for the best time to post.
This option allows you to copy your posted content to your libraries. Simply click on the 'Copy Content' button on the post and then select the library/libraries in which you want to copy the content.
Other Features on the Queue section
We let you pause your entire queue and once it is paused then no post will go out to all your social accounts until you resume it again. Your schedules will stay intact when you pause the queue and as soon as you resume it your posts will start scheduling normally. Please note, when pausing the queue you can also set the resume date on which you want your Queue to be resume so that you do not have to come back to RecurPost to resume it again.
Filter the Queue by Libraries
You can filter out your scheduled posts on the Queue section by clicking on the filter option and then select the library/libraries for which you want to see the scheduled posts. This is very helpful when you have a large number of scheduled posts going out on multiple social accounts from multiple libraries.
This feature is named 'Library Calendar' where you'll be able to see all of your scheduled posts that are yet to be posted within the remainder of the current month and the end of the next month.
You can view your posts up to two months in advance. This allows you to "look into the future" and gives you room to make improvements and optimize your posting strategy.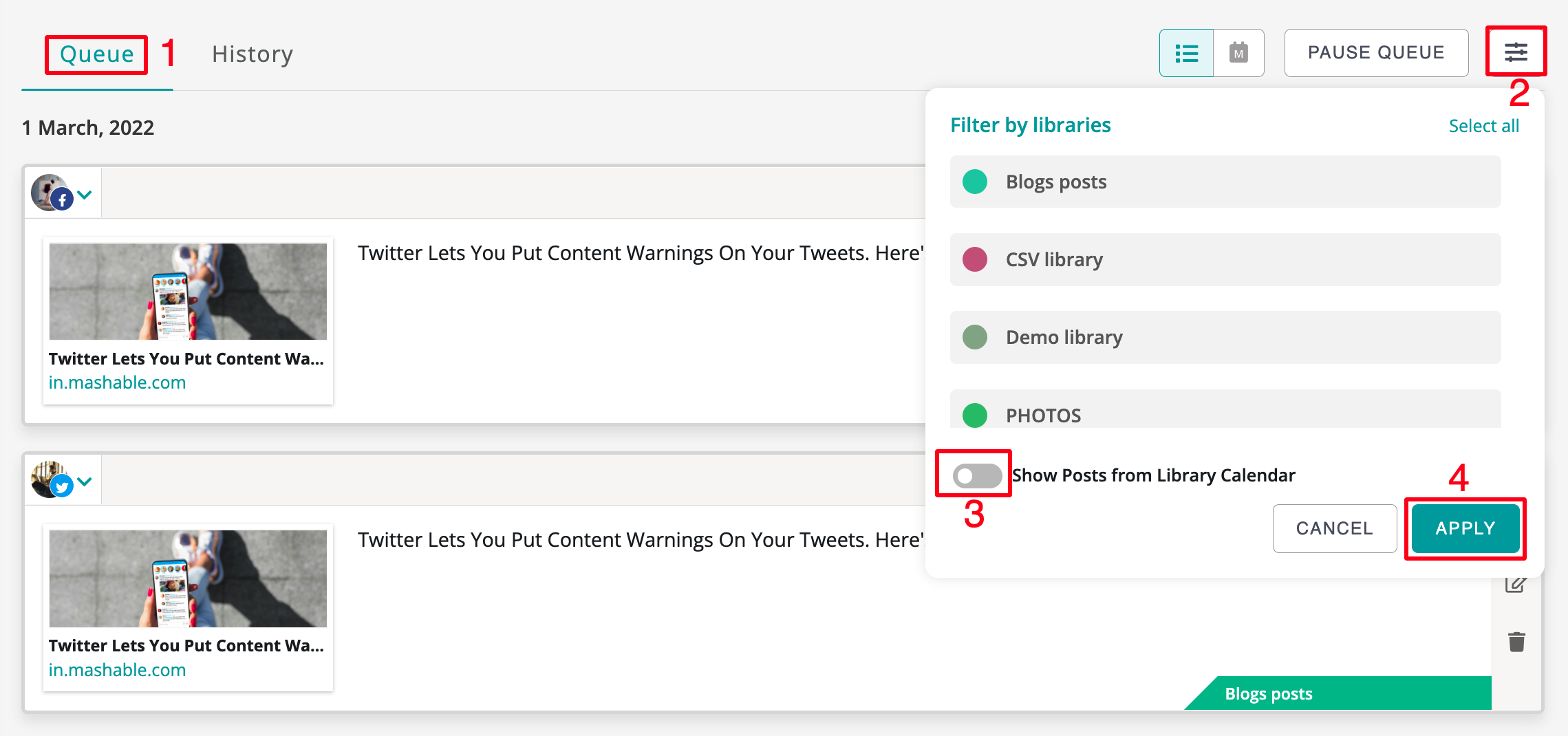 You can also find this feature in your libraries by going to the 'Recurring Posts' page. From the library, go to 'YOUR SCHEDULE' tab and click on the Library Calendar icon.
You can view your social posts either in a List view or Month view form just like in the Queue tab. You can also view which posts are currently in Queue and about to go live.
We hope this information regarding the social queue was helpful to you. If you still have any queries, feel free to reach out to us at support@recurpost.com.