There's a new version available for this guide. Click here to read.
Keeping up with the latest trends seems almost impossible these days. Not to mention how the need to constantly post content on social media is on an all-time high.
This is where RecurPost steps in. We know how hard it is to write and post so many updates individually and the amount of time and effort it takes.
To help you with that, we have created a way for you to post all your content in bulk, saving you a ton of time and energy.
Let's see how to add content in bulk.
Step 1: Select Your Library
The first step is to select the library that you want to post in. You can easily find all your libraries under the section "Content Library."
Step 2: Click on 'Add in bulk'
Once you've selected your library, click on the little down arrow beside the 'Add an update' button and then click on 'Add in bulk'. It is through this that you'll be able to make multiple posts in one go.
Step 3: Add Your Content
For Text/Link Posts
Next, you'll be adding the actual content. Do keep in mind that each update will be separated by a new line like shown in the image above. In this case, I will be having 4 different updates made.
You can also add in links instead of texts like so:
In this case, I'll be creating 3 link posts.
Once you're happy with your selected links, click on 'Generate Preview'.
The preview allows you to see how your posts will look on each social media. You can still make changes to your content, save them as drafts, recycle them, or add media images for each post.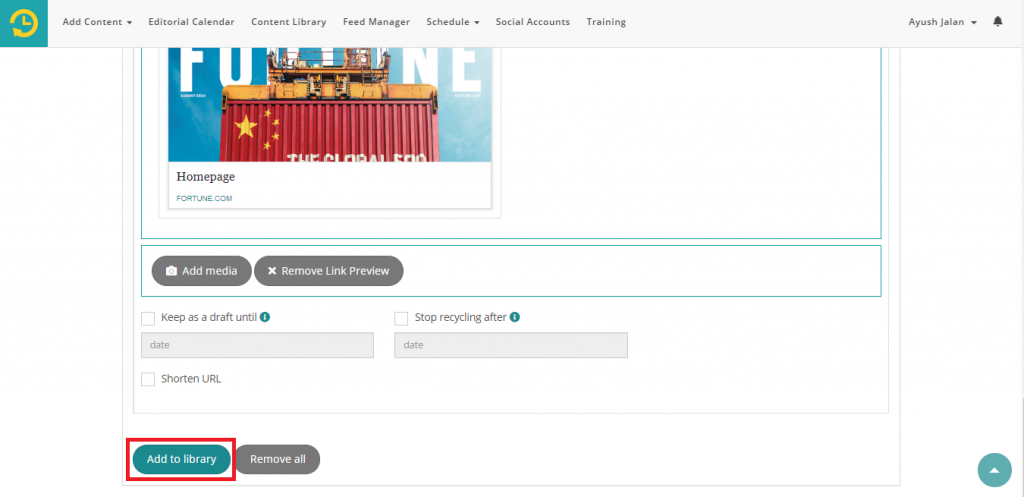 Once you've previewed your content and are satisfied with how it looks, you can directly add your posts to your selected library. After clicking the 'Add to library' button, you'll instantly see all your posts in your library like so:
For Image Posts
To add image posts, click on the 'Add Media' button and select your images. You'll then see your images displayed and will be able to write your content in the 'Image Caption' window like shown in the image below.
Let's say you want each sentence to be in a different update i.e. one sentence for each image post. To do that, you can simply click on the 'Apply to all' button and further click on 'Add one item to one image'.
That way, you will distribute your content evenly among the different images. However, if the number of text lines do not equal the number of images, you'll receive the following pop-up:
You can either click on 'No, let me fix this' and add or subtract content or images to equate each other, or click on 'Yes, same text for all images' if you want the entire text content for every image.
If the number of text lines equate the number of images and you still wish to add the entire text content to every image, you can do so directly by clicking on 'Apply to all' and further clicking on 'Attach entire text to every image'.
You can also keep your image updates as drafts until a particular date and stop recycling them after a certain date. Once you've made your settings and are happy with the entire lay-out, go ahead and click on 'Add to library' and you'll see your posts in your selected library like so:
If you have any further query regarding this feature, please feel free to contact us anytime.