Keeping up with the latest trends seems almost impossible these days. Not to mention how the need to constantly post content on social media is on an all-time high.
This is where RecurPost steps in. We know how hard it is to write and post so many updates individually and the amount of time and effort it takes.
To help you with that, we have created a way for you to post all your content in bulk, saving you a ton of time and energy.
Let's see how to add content in bulk.
Step 1: Select Your Library
The first step is to select the library that you want to post in. You can easily find all your libraries under the section "Content Library."
Step 2: Click on "Add in bulk"
Once you've selected your library, click on the little down arrow beside the Add an update button and then click on Add in bulk. It is through this that you'll be able to make multiple posts in one go.
Step 3: Add Your Content
Next, you'll be adding the actual content. You can separate each post by a new line, or you can simply add multiple images by clicking on the Add media button down below.
Step 4: Click on "Generate Preview"
The preview allows you to see how your posts will look on each social media. You can still make changes to your content, save them as drafts, recycle them, or add media images for each post.
Step 5: Click on "Add to library"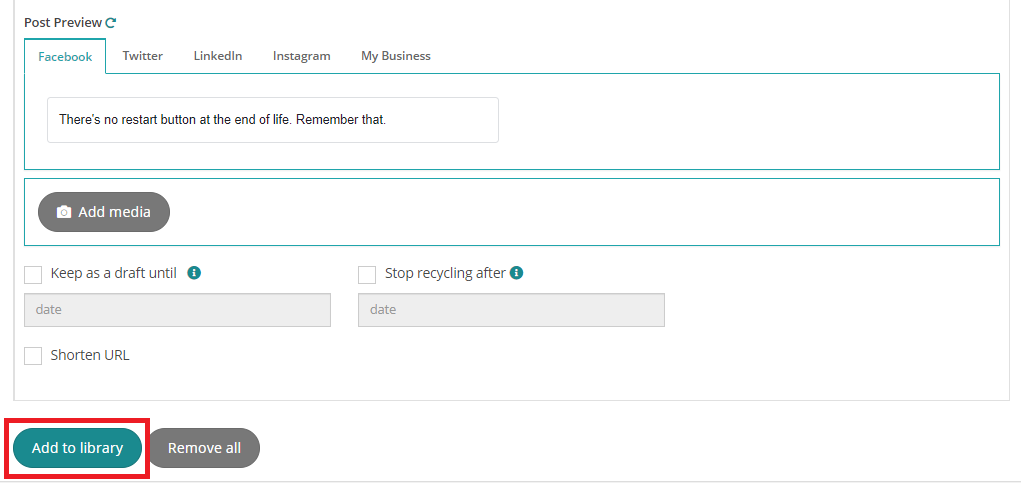 Once you've previewed your content and are satisfied with how it looks, you can directly add your posts to your selected library. After clicking the Add to library button, you'll instantly see all your posts in your library.