RecurPost allows you to add multiple kinds of content, giving you the freedom to have variety in your posts. Here is a list of different types of content supported by RecurPost:
Text posts: Simply write your content in the form of text and add it to your library.

Link posts: Simply copy and paste your desired webpage link in the message box. RecurPost will get the information including title, description, and image from that link. A Link Post typically looks like an image with an embedded link. When you click on the image, it opens a new browser window and takes you to the embedded link.

Image posts: An image post contains an image and a caption. What you write in the message becomes the caption to go along with your image. You can include a link in your message as well. However, clicking on the image will open the image itself and not the link from the message.

Video posts: RecurPost also supports uploading and posting of videos. Videos posted to your accounts via RecurPost will appear as if they were posted natively i.e. from that social platform's interface. Video updates are only available for paid plans.
Now, let's see how to add new content.

You can choose to either add one-off posts that will go out to your account just once or you can create an update in your library for repeated use.

Let's first see how to create one-off posts.
First, head over to your Dashboard and simply click on the "Click here to share something on your accounts" box. This is where you'll be creating your one-off post.
From there, you will be able to add in all the details of your update including the message i.e. description which can either be a link or simply textual content.
You can also add images, GIFs, or videos by clicking on the down arrow beside 'Add Media'. If you don't have an image ready at hand, you can also ask RecurPost for copyright-free images!

Click on the down arrow beside the 'Add Media' button and then click on 'Search for an image'.
Then, type in your keyword for the kind of image you want. For instance, I want a picture of a skyscraper for my blog. I can just type in the keyword and have free images appear like so:
All the images that RecurPost fetches for you are royalty-free and can be used in whatever way you please. The message that you write now will become the caption of your image.

After adding those details, select the social accounts that you want to post on.

Now, on the right, you will be able to see a preview of how your post will look like on each social platform once posted like so:
Similarly, if you have included a link as your message, you will see a preview of the thumbnail for that link.
Note: In case your URL was not detected, click on the refresh icon next to the 'Post Preview' label and it will fetch the preview.
We are halfway done.
Now, in case you also want to add this update to your library as well for later use or editing, you can do so by ticking the 'Add this update to libraries too' box.
This means that your one-off post will also be copied to your selected libraries which you can later edit as per your preference.
Once you're done with that, it's now time to schedule your post. You can do so by ticking the 'Schedule Post' button and selecting your preferred date and time of posting like so:
If you're not sure what time to post at, RecurPost also allows you to set up a best-time schedule. Here, we auto-schedule your post for the time when it is most likely to receive the highest engagement on social media once posted.
To activate this feature, click on "Auto-schedule for best time within 24 hours" and we'll find the best time within the next 24 hours to post your one-off update.
If your update contains a link, you can also shorten your link and make it more readable by ticking the 'Shorten URL' button.
You can shorten your URL links automatically for your recurring schedules using either Firebase by Google or Bitly. If you haven't yet connected your Bitly account to RecurPost, you can do it under the Plug-in menu.
Find it under the drop-down menu by clicking on your account name. From there, go to "Plug-ins" > "Manage" under URL Shortener > "Manage" under Google URL Shortener (Firebase) or Bitly URL Shortener.
From here on, you can select the social accounts that you want automated.
For example, let's say that you select your Instagram account and Facebook Page. This means that whenever you post an update containing a link to these accounts, RecurPost will automatically shorten them.

Keep in mind that this automation of URL Shortening works only for recurring schedules. For one-off posts, you can do so manually while adding the update.
Once you're done setting all of that up and are ready with your update, go ahead and click on the blue 'Schedule' button at the bottom. We will automatically post your update on the scheduled time.
If you haven't set up a schedule and want to post your update instantly, click on the 'Post Now' button.
That's all for one-off posts. Now, let's see how to add updates in your library.
Adding updates in your library is pretty much the same as adding one-off posts. Go to your Dashboard and click on the library that you wish to add content in.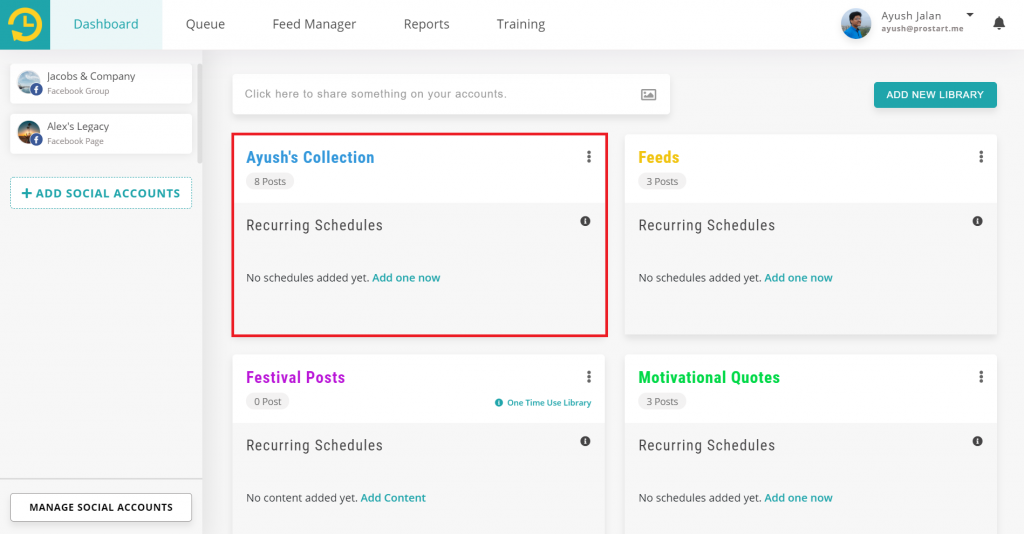 Inside the library, click on the 'Add an update' button.
In the following "Add an update" window, add in all your details the same way we saw for one-off posts.
For updates in your library, you can also select whether you want to keep them as drafts until a certain date. These updates will basically be on a stand-by until their 'release date'.
After the release date, they will start going out to your social accounts recurringly according to your schedule.
You can also choose to make these updates stop going out to your social accounts after a certain 'expiry date'. After the expiry date, your update will expire and will go to a separate content library named "Expired Content."
For more info on how drafts and recycling works, please read here.
Now, if you want this update to go out next before any other update from this library, you can click on 'Make it the next post to go out' button.
Clicking this button will set this update as a priority. This feature is especially useful for news companies or ad agencies for keeping up with the latest trends.
Once have set all of that up, go ahead and click on the blue 'Add To Library" button. This update will now go out to your social accounts according to your schedule.
That's all! You now know how adding content on RecurPost works!
Thanks for reading. If you have any further queries, feel free to contact us at any time at support@recurpost.com.