Google My Business posts are indeed a great way to improve the ranking of your local listing. They provide a lot of benefits including but not limited to reaching more people, building brand awareness, engaging with the audience, informing people about the latest updates and offers, and improving the local search engine optimization.
What's noticeable is that while creating posts, you can add a call to action button. There are mainly 6 options available for adding a CTA to your Google My Business posts: 
Learn More
Sign Up
Buy
Order online
Book
Call now
RecurPost allows you to schedule and share posts to your Google My Business listing. You can share posts and add a CTA button to each Google My Business post that will redirect your audience to a website. 
Here's how you can add a CTA button to your Google My Business post: 

1. Make sure that your Google My Business account is added to your RecurPost account. If not, add one now.

2. While on the dashboard of your RecurPost account, you can see the option saying 'Share a post' at the top of the screen.

3. Click on it and a pop-up window will appear.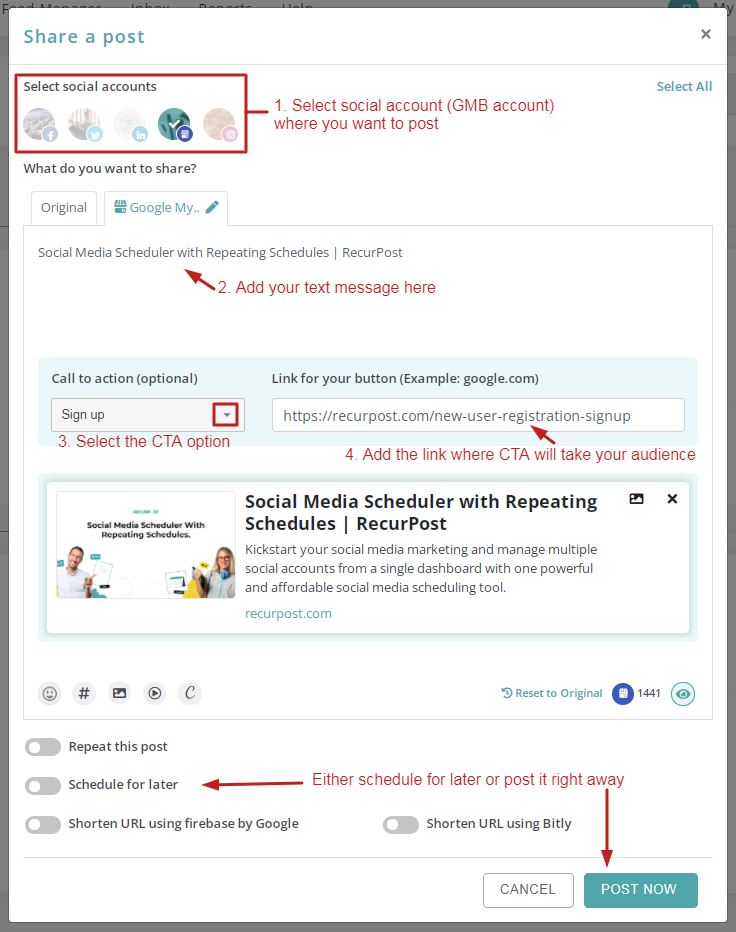 4. Now, you need to add your details one by one.
First, select the accounts where you want to post to. You can post on multiple accounts at the same time.
In the 'What do you want to share?' field, add the text and the link that you want to include in the CTA button.
Select the Call To Action you want to set on your post from the drop-down option by going to GMB tab.
If you pick a CTA other than Call Now, then you need to set the link for that CTA as well.
By default, 'Learn more' will be selected and the user will be redirected to the link that you included in your message. 
Post it immediately, schedule it for later, or add it in your content libraries to repeat it multiple times in future!
Note:
If you don't include any link, you'll get only 2 options in the CTA options: None and Call now.
Make sure that you have already added a phone number in your GMB listing. If not, the CTA button for 'Call now' will not appear after your post is posted on Google my business.
In case you don't want to include any call to action, you can simply select 'None' and upload a text or image in the post.
According to a survey done, The 'Call now' button is proving to be very useful for customers to contact local businesses in just one click. Apart from it, you can effectively use GMB posts to let customers visit your website, sign up for a newsletter or tool, book reservations, and a lot more – directly from the post uploaded. 
So, go ahead and start scheduling now to make your listing more accessible and to stay a step ahead from your competitors.

To learn how to upload content in bulk, click here.