Adding new content to RecurPost is really simple. You can add two types of content.
Content that gets added to your library
Content that you want to post once  – either right now or scheduled for a time in future.
To add content to be posted once you add it via Editorial Calendar. Click on the "Create one-time-post" and you will be able to add a new update.
To add content to your library, click on that library and click on "Add an update" button.
In both of the above cases you will reach the following page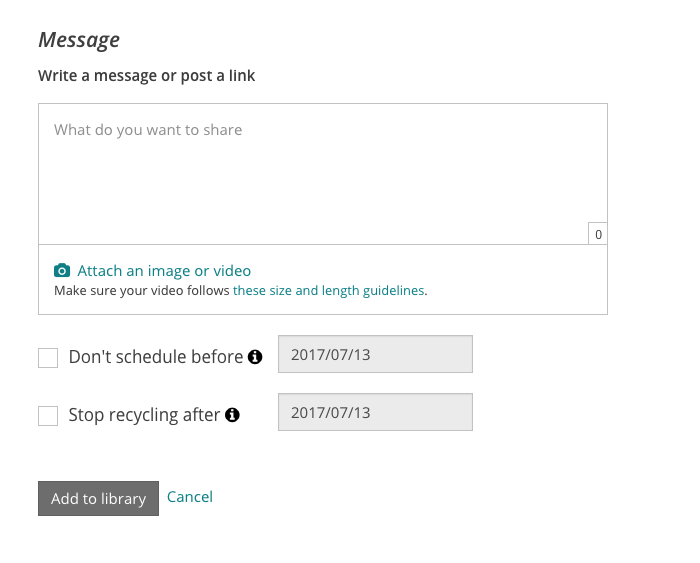 You can add these types of content to RecurPost
Text Post: If you don't want to attach a link or an image, simply write your text in the box.
Link Post: In order to add a link you can simply post it in the message box. RecurPost will get the information including title, description and image from that link. Note that Twitter only allows a Tweet to have text, links and images.
Image post: An image post is a post that has an image, doh, and a caption. What you write in the message becomes the caption to go along with your image.
Video post: We let you upload a video and then it will be posted natively for you. Due to the cost of hosting video files, video updates are only available for paid plans.
In the screenshot below you can see the message in the box, the image and the title and description next to the image. The image, title and description appears automatically when you add the URL. Simply paste it and it will start pulling the data.
Note: If for some reason RecurPost fails to detect your URL, just type a space at the end of the URL and that should fix the issue. You can then remove the extra space.
You can edit the title and description as well. You can even upload your own picture to accompany your social update.
If you don't want the title or description from the link and instead want to add an image, click on the "Create Image Post" option below the image. This will allow you to set an image and your message will become the caption for that image.