If you are aspiring to automate marketing on one of the most visually oriented and high-potential platforms, that is Pinterest, you have come to the right platform!
Choosing to schedule pins on a platform that has 459 million active users on a monthly basis seems like the right thing to do. Pinterest has tremendous audience reach and your business can capitalize on it by being smart with its marketing choices.
RecurPost allows you to schedule pins seamlessly and with minimal effort so that you can display your business's creative side flawlessly on your Pinterest profile. This post will decode the steps that you will have to follow to schedule pins via RecurPost.
How can a Pinterest scheduler help you?
A Pinterest scheduler can help you in ways that you may have underestimated. Imagine having to hit the "send" button multiple times a day to maintain the consistency of posting on your feed. It can be borderline painful. But a Pinterest scheduler can ease up things for you.
When you choose to automate Pinterest marketing with a Pinterest scheduler, you will be able to keep your content calendar organized by planning content for the long run and saving yourself tons of hours. Once your calendar is ready with the content, you should make sure that all pieces get posted at the best times. Posting content at optimal times will maximize your reach or chances of getting seen when your target audience is online and active.
RecurPost is an excellent Pinterest scheduler that will give you the best times to post on Pinterest with its smart AI-backed system. You can auto-schedule pins as per these times and increase your chances of getting a higher reach.
Steps to follow to schedule pins with RecurPost
If you choose to automate Pinterest posts, you will relieve yourself of the need to stay online at odd hours to maintain consistency in posting. We have put together one of the smartest algorithms to help you schedule pins in the best way at RecurPost. Here are the steps that you will have to follow to schedule pins on Pinterest with RecurPost:
You will first have to login to your RecurPost account and go to the dashboard.
On the left-hand side of the screen, you will find a panel that enlists all your linked accounts with RecurPost. You can add multiple Pinterest boards to RecurPost. Pick the Pinterest board on which you want to schedule the post. Click here to know how to add pinterest board/account.
After you click on the account you chose, on the screen to the right, you will see a window that says "share a post", tap on that, and another window will pop on your screen.
A popup-box will appear on your screen, where you can description or content for your post. Also, attach the media that you want by clicking on the icons given below the description box. You will have the option of adding an image, video, hashtags, and emojis of your choice.
Once you are done adding the content, you will note that there is an option saying "schedule this for later" below in the box. Choose to push the button towards the right and pick a date and time for posting.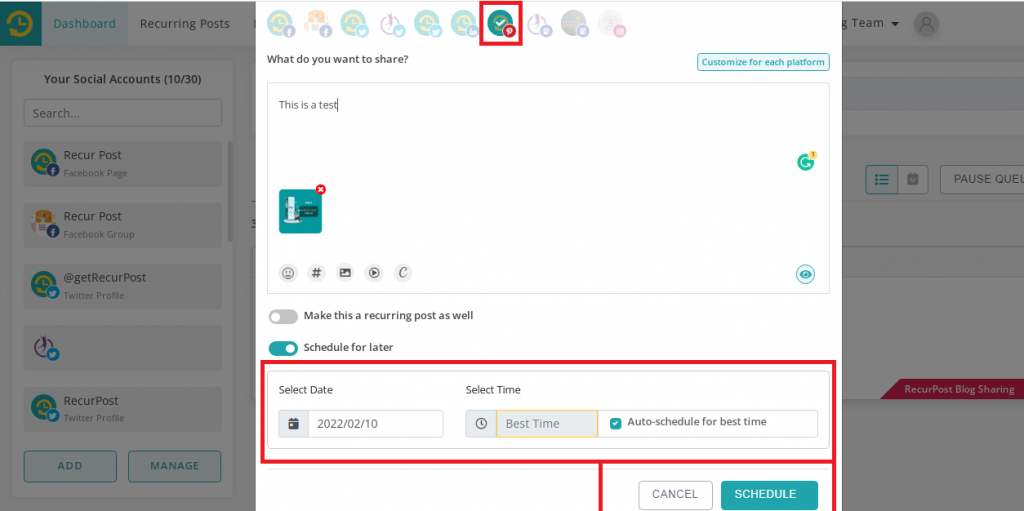 After you are done with filling in all the details, simply click on "schedule" and your post will be queued in the profile's library for getting posted later.
Check out our video guide on how to add social media account in recurpost