To see a video explaining the whole process, click here.
RecurPost now supports posting on a Facebook group that you administer as well on the groups that you are a member of. Isn't that great? Most social media schedulers don't provide this feature and allow only the group admin to schedule posts.
However, to post on a Facebook Group as a member using RecurPost, there are 2 pre-requisites:
The admin of the Facebook Group must have installed RecurPost app in the group
The admin must allow group members to post
Note:
Some groups only allow admins to make new posts. In such a case, this feature will not work for the concerned group.
The group members will be able to see that you are publishing a post using RecurPost.
How to install RecurPost app on your FB Group and enable permissions to post
Please note that only the group admin can install the app and change permissions to post.
After logging in to your Facebook account, you'll see the list of all your groups on the left-hand side. Select the one that you want to manage through RecurPost.
Again, from the left-hand side menu, select 'Group Settings'.
In the main panel, scroll down to find the option of 'Apps' under the 'Manage advanced settings' section.
Click on the edit icon and a pop-up will show the names of apps that are connected to your Facebook Group. In case RecurPost is not connected, click on 'Add Apps', search for 'Recur Post' and add it.
After you add it, you'll be ready to post on your Facebook Group through RecurPost.
Now, go back again to the 'Group Settings' page, and scroll a bit to find the option of 'Participant approval under the 'Participation' section.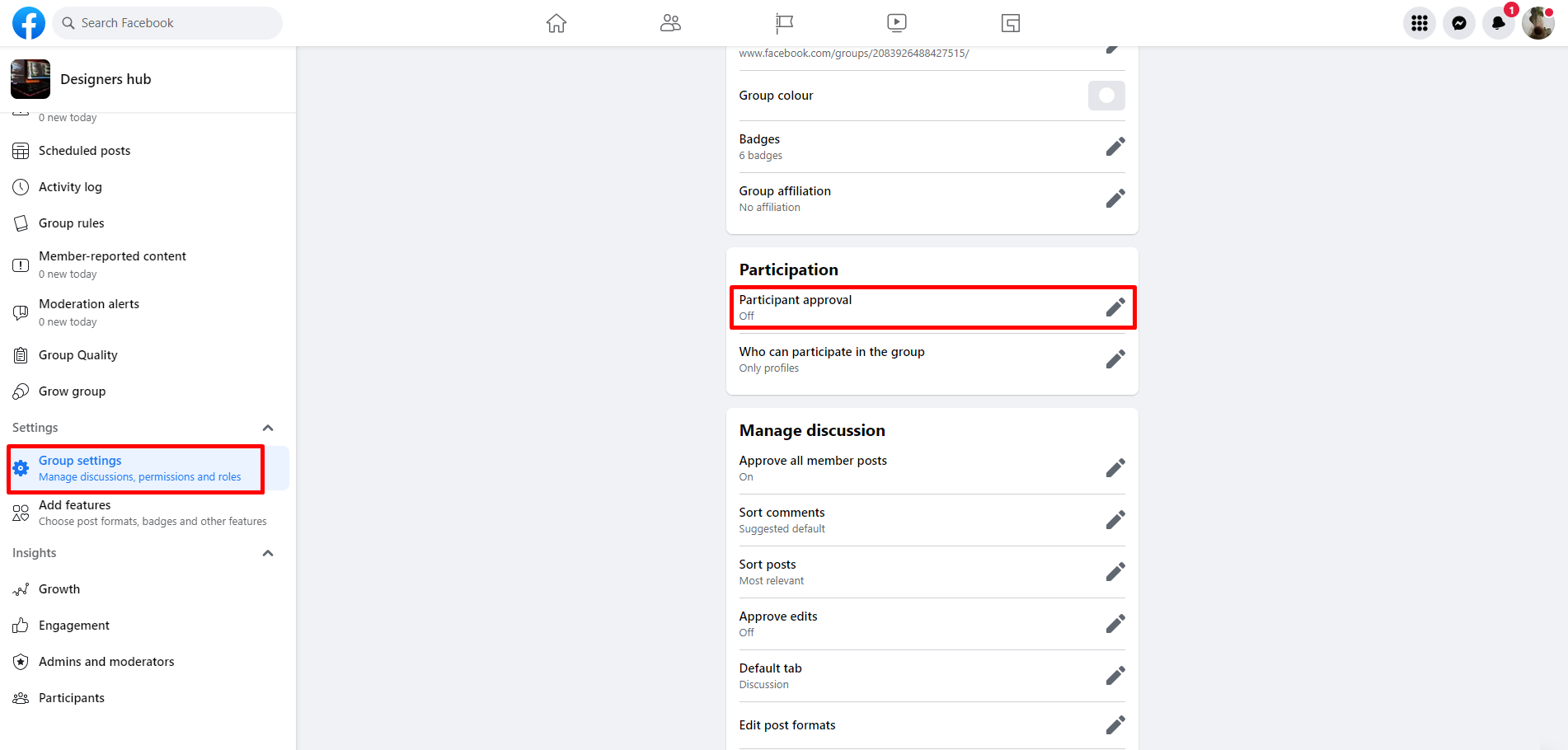 This should be set to 'Off' to enable posting by group members.
That's it. You are now all set to post on the Facebook Group as a group member! Add the Facebook group to RecurPost to begin.
Here's how to add a Facebook Group to RecurPost
Go to the RecurPost Dashboard and click on the 'Add' button from the left-hand side panel.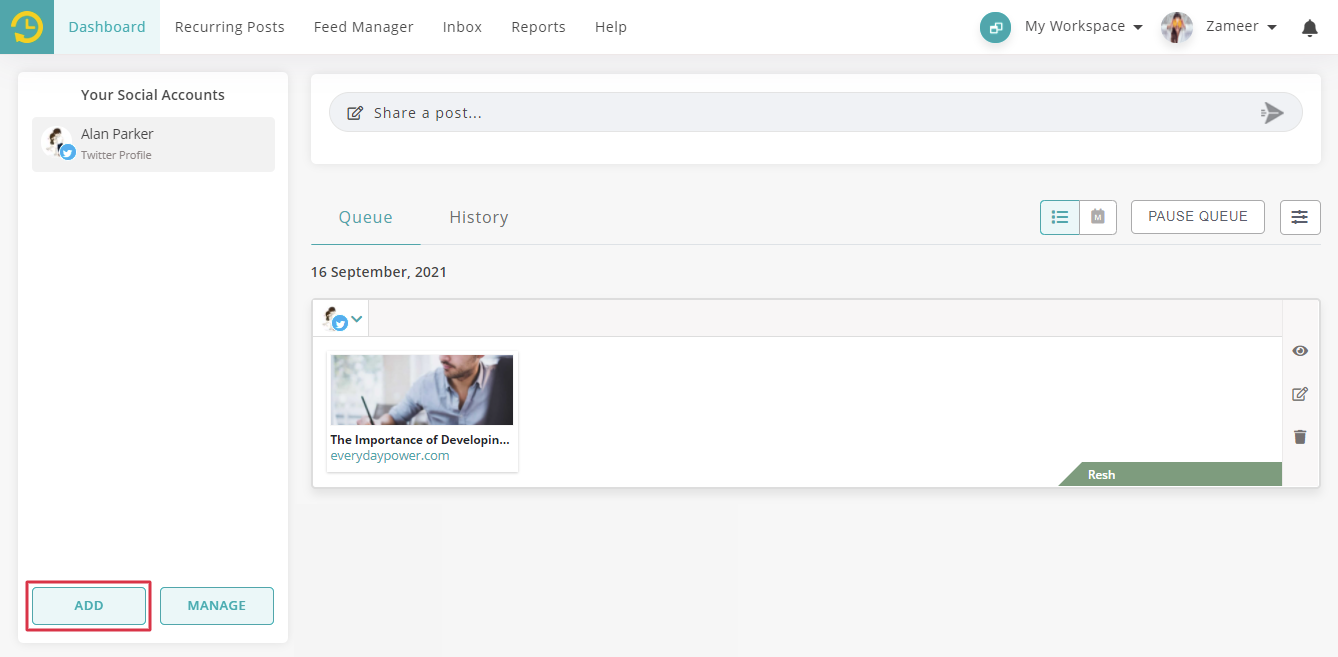 A pop-up window will appear. Select the Add Group option under the 'Facebook' section.
(If you have not added any social account then, you will see a button saying 'Add Social Accounts' on the left-hand side panel on the dashboard. Click on it and the same pop-up will appear.)
Now, you will see a list of groups you administer and the groups you are a member of.
Select the group that you want to add. If the RecurPost app is not installed in the group, you will receive the following message:

So, select the FB Group that has meets all the requirements to add Group in RecurPost and it will be added to your RecurPost account just fine. You can now start scheduling posts on it!
Posting on a Group as a Page
By default, when you add a Facebook Group, you will be publishing posts through your Facebook Profile. However, if you want to post on the Group as a Page, you can do that too. This is possible when your FB Page is connected to your RecurPost account, and you are an admin of that page.
While adding a FB Group, select the desired FB Page from the drop-down menu and then add the Group as shown below.
You can change these settings anytime you want to, after adding the group. To do so, go to your dashboard and click on the 'Manage' button.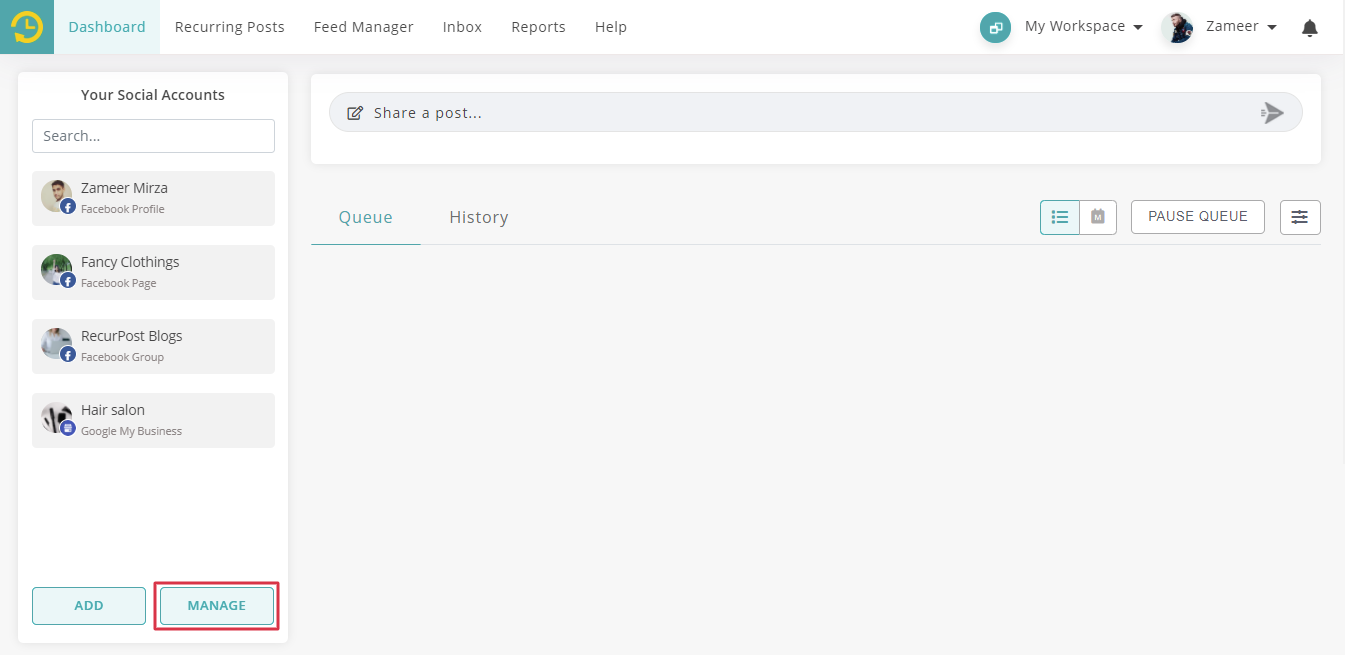 From the pop-up window, select the desired Facebook group, make the changes that you need to, and save.
That's all you need to know about posting on a Facebook Group as a member!
Let's connect your FB Group to RecurPost straight away! Click here to go to your dashboard.