With RecurPost, you can upload content using an Excel spreadsheet or a CSV file is as easy as any other process. Here are the steps that will help you in doing the same.
Step 1: Select Your Library
The first step is to select the library that you want to add content to. You can easily find all your libraries on the Recurring Posts page.
Step 2: Click on "Import from a CSV"
Once you've selected your library, you'll see a lot of options to upload content in bulk. Select the option of 'Import from a CSV'.
Step 3: Click on "Upload CSV File"
When you click on the 'Import' button, a pop-up window will appear.

If you would like, you can also download our FREE sample CSV file. The sample file shows you the format for your Excel file. When you're done preparing that, click on 'Upload CSV file', select your file and you'll see a pop-up window of the following in the next step.
Step 4: Click on "Generate Preview"
Next, the window takes all the columns from your Excel or CSV file and visualizes them in front of you. You can select the 3 columns of your choice and skip the ones that you don't want.
Please note that the title of the columns will be taken from your file. The titles mentioned in the image above are for simplicity.
Once you've made your pick, you can easily select which column performs which function i.e. as a message, post URL, or image URL.
Once you've selected the respective fields, you are good to go. Click on the Generate preview button and from there on you'll be able to visualize how your content will look on social media. Here's a little screenshot of how it will look like: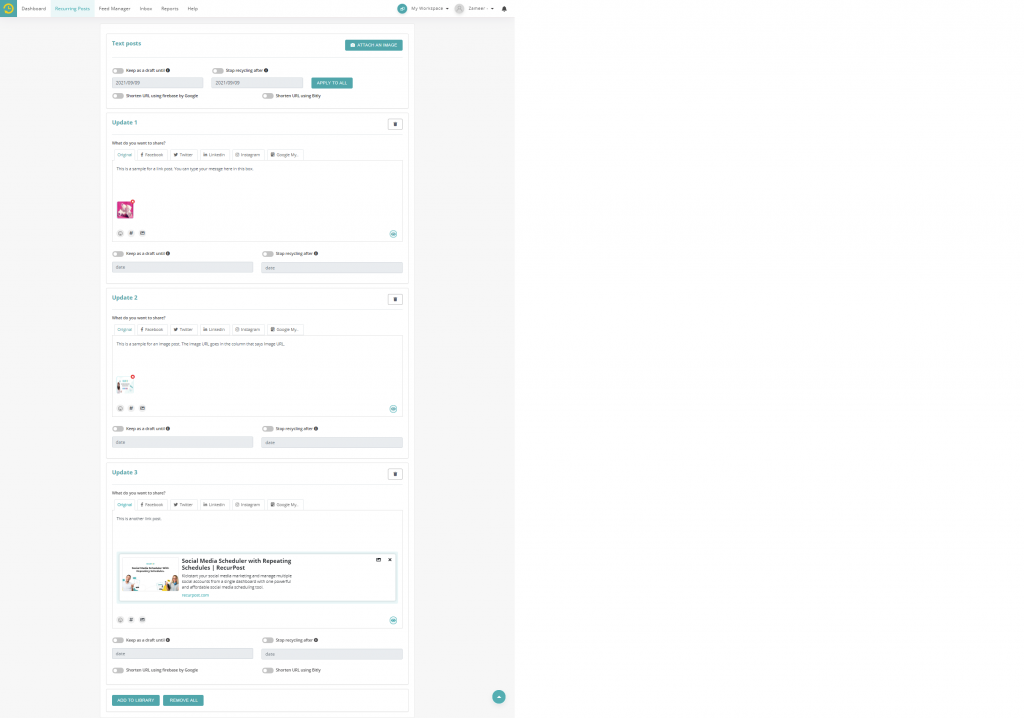 In the preview, you can add all sorts of changes. You can add messages, save your content as a draft until a particular date. You can also select when you want to stop recycling your content.
Step 5: Click on "Add to library"
After making all the necessary changes, you can add everything to your selected library. Scroll down to the bottom of the page and click on 'Add to library'. It will then show up in the exact form that you saved it. 
That's it! Go to your library and all the posts will appear there.
For a more detailed look on how to upload CSV files, you can take a look at our video here.