There may be times when you have to discontinue or delete your facebook group or any of your other social handles because things aren't working out the way you planned, which is pretty common in the world of social media marketing.
The same applies to Facebook Groups. Though Facebook groups are a valuable asset to your company and have the potential for massive engagement, they can also prove to be an obstacle if not managed properly.
You may even need to delete your Facebook group if they are doing more harm than good for your brand.
In this post, we'll be seeing how to delete your Facebook Groups and if there are any better alternatives available before you knock it off the roof.
Before You Delete Your Facebook Group
Before you finally decide to delete your Facebook Group, consider the following:
Consider the alternatives before deleting your Facebook Group
(scroll down to see alternatives)
Deletion is permanent; you won't be able to recover your Facebook Group or the content inside after deleting it.
Make sure to inform your members beforehand about it; in case they need to extract some valuable info before it's lost or to connect with someone they found in the group.
Tell your members why you are deleting the group in the first place; be brief and explain to them why you think it's the right course of action.
Once you're done considering everything, it's time to pull the plug. Again, keep in mind that you can't recover data in your Facebook Group after deleting it. All the images, videos, text updates, events, and polls will be gone, as well as your connection with the people inside that group.
Note that only the creator of the group can delete the group. In case the creator has already left the group, the authority transfers over to the remaining admins.
Now, to delete your Facebook Group:
Click on the 'Members' tab.
Click on the three dots next to each member.
Click on 'Remove from Group' and do so 'til all members are removed.
Once every member is removed, select the 'Leave group' and remove yourself.
Once everyone is removed, the Facebook Group is deleted.
Alternatives To Consider Before You Delete Your Facebook Group
1. Re-brand and Change the Group Name
Sometimes changing your group name can be a way to set things straight. You can change it to your brand name to remind the members of the purpose of the group and to indirectly ask them to stay professional.
Along with changing the group name, you could also change the cover photo to give out a more visual and direct message. Here's how to do it.
Change the group name
To change your group settings, simply head over to the 'More' tab and select 'Edit group settings'.
You'll see the name of your Facebook Group which you'll now be able to edit to whatever you wish.
You can also edit your cover photo by simply hovering your cursor over it and clicking on the 'Change group cover' button like shown:
Add branding to the cover photo
Use Canva or any other graphic tool to create a cover photo for your Facebook Group that includes your brand logo. You may want to checkout our guide on how to create an eye-catching graphic for social media.
Keep in mind that your cover photo should be at least 820px wide and 312px tall. Any less than that and Facebook will stretch it, making it look blurry.
Link the group to your page
Linking your Facebook Page to your group allows you to engage as your page within your Facebook group i.e. whenever you post, like, or comment within the group, it will appear as if the page did it.
Here's how to do it:
Go to the 'More' tab
Select 'Edit group settings'
Find 'Linked Pages' menu and click on 'Link Your Page'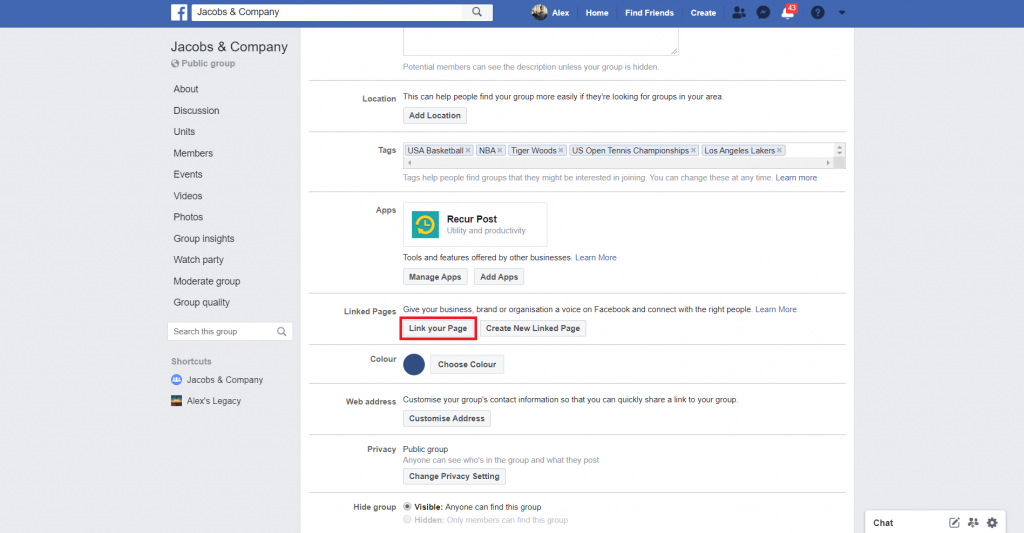 Click 'Link' beside the page you want to link to your Facebook Group
2. Assign New Admins
Deleting your Facebook Group without considering the emotional influence of the people involved can hurt the reputation of your brand.
Instead, try appointing new admins or assigning the role to the most active and competent members of your group who would want to take the responsibility.
To make it official and to give out a message of change, create a post about the same welcoming the new admins and declaring their purpose in the group.
This not only saves the relationships that members of your group have built but also creates room for improvement.
Here's how to assign new admins:
Go to the 'Members' tab located on the left panel of your group
Click on the three dots beside the member(s) you want to appoint as admin(s)
Select 'Make Admin' from the drop-down menu
Select 'Send Invitation' on the pop-up to invite that member to become an admin
Once the member accepts the invitation, they are assigned the role of admin
3. Archive Your Group
Instead of deleting your group entirely which is an irreversible action, you can also consider archiving it which you can later unarchive if you wish.
In an archived group:
no new members will be able to join
no new posts or comments can be made
the group itself will not be searchable by non-members
However, members will still be able to read all the posts, comments, and threads. The content inside the group including all the photos, videos, events, etc will stay intact but not editable.
In case you change your mind, you can unarchive your group at any time and the group will start functioning like normal.
This is one of the best alternatives to deleting your group because even though the group is inactive, all the content and the data inside it is still safe and readable by the existing members.
Here's how to archive your group:
Go to the 'More' tab
Select 'Archive Group' from the drop-down menu
Click 'Confirm' on the pop-up to archive your Facebook Group
Conclusion
Deleting your Facebook Group is a big decision, especially if it's an old one with lots of members. Regardless, deleting your group could be the right decision for your business based on the returns you receive (or don't) on your time and effort.
But do so only and only if you are absolutely sure that it's the right decision. As we discussed, there are a number of better alternatives that you can consider before deleting your group, which might just be the best route to go.
If not, try to visualize what went wrong and how to avoid something like this from happening in the future.
Read "How to create a Facebook Group in 2020" here: [Click here].