RecurPost is now available in the Zapier ecosystem. It means you can connect RecurPost to 1000s of other apps out there without any problem.
Some examples include:
Add content in your RecurPost library when you bookmark something in your pocket app.
Schedule content automatically when your designer emails you an image in your Gmail.
In this tutorial, I am going to explain how to connect RecurPost to Zapier.
RecurPost + Zapier
When you try to use RecurPost app with Zapier, you will need to verify that it is in fact you who is asking for this connection. In order to keep you safe, we have created a unique pass_key that can be regenerated from your Account Settings Page.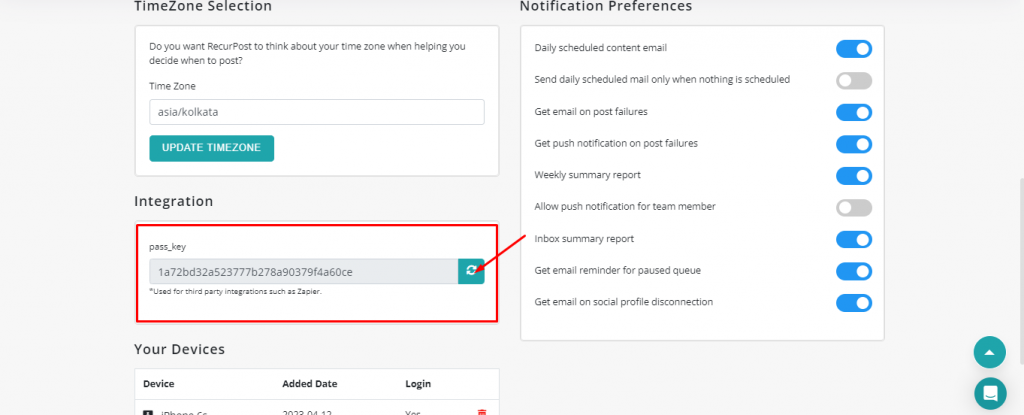 Copy the key from this page and paste it in Zapier along with your email address to verify your RecurPost account.
RecurPost Triggers in Zapier
We have created a Trigger in Zapier that will start your workflow when a post is posted by RecurPost. A trigger is the first step in a Zapier Zap or workflow.
You can use it to do something when a post is posted on one of your social accounts. For instance, when RecurPost post on your Facebook Page you can connect your FB page to the Pocket app in Zapier. So whatever is going to your FB Page it will post the same thing on Pocket automatically. That way you can stil post on Pocket even though we do not support Pocket on RecurPost.
In order to use this trigger, you need to specify the social account that should fire this trigger. You can have multiple triggers for each social account if you so choose.
You can do other things with this Trigger. For instance, if you want to store your posts in a Google Sheet to keep track of how many posts were posted for a client, you can connect RecurPost app to Google Sheet apps to do that.
The possibilities are many as there are thousands of apps that you can use now.
RecurPost actions in Zapier
An action is something you want to do when a trigger triggers something. For instance, in the above example posting on Pocket or storing in Google sheets are examples of actions created by Pocket and Google respectively.
RecurPost has two actions that you can leverage.
You can add a new content to your RecurPost libraries. For instance, every time you add a new URL to your Pocket app it can be automatically added to your RecurPost library.
You can schedule a post using RecurPost. For instance, every time you add a new blogpost on your wordpress website, you can schedule it to go out on your accounts in RecurPost.
In order to setup your actions, you will need to specify the message, image URL, video URL and the link to go with it.
We will validate if your post can be added based on your plan and if all goes fine it will work as expected. If there is an error, Zapier will email you that a Zap did not run properly.