RecurPost now allows you to add your newly added posts from your RSS Feeds directly to the top of your library.
A lot of our users reached out to us and expressed how they want their new feed posts to be published before others so they can stay updated and relevant to their audience on social media.

You asked; we delivered.

Let's see how this feature works and why it's helpful to you as a RecurPost user.
First, you'll need to add a new feed if you don't already have one. You can do so by simply heading on to the "Feed Manager" page and clicking on "Add a new feed" button.
Then, you'll need to add the following:

1. The RSS address of the feed you want
2. The library in which you want your feed posts to appear
3. Select approval preferences

Once you're done with that, click on the "Move new posts to top of the Queue" button. It is through this button that you'll be able to move your feed posts to the top of your library.

Next, click on "Add feed" and you should see your feed appealing like shown in the image below:
You're almost done. Click on your feed and select which posts you want to accept (✓) or reject (✖). The posts that you accept will appear in your library one after the other.

For example,

If I accept the first post, it will now appear in my library like so: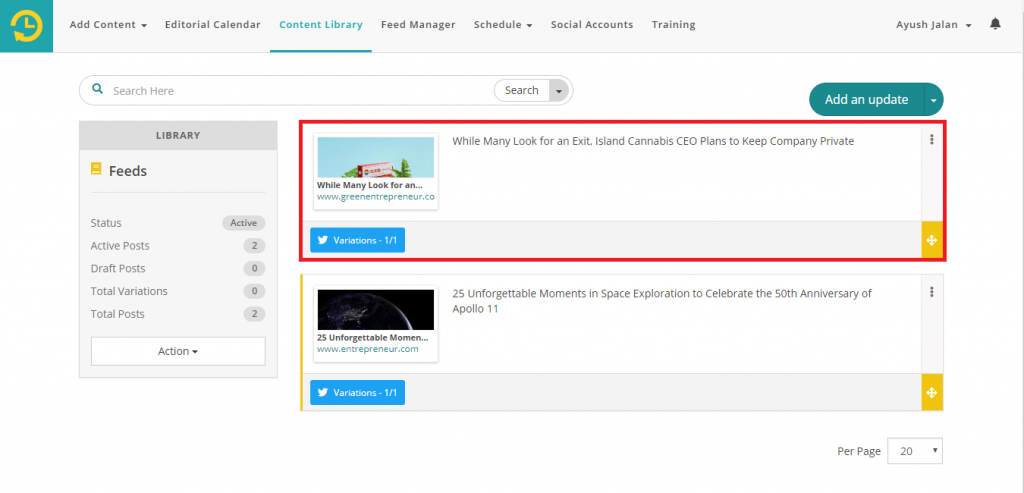 As you see, the post which I had accepted is now appearing on top of the one which I had already accepted earlier.

Without the "Move new posts to top of the Queue" selection, the newly accepted posts would stack up below the ones I had accepted earlier.

With the feature, however, I can easily stay updated on the latest posts rather than having to scroll down to find it in case I need to instantly post about something new on priority.
What If I Want To Schedule A New Feed Post?
It's pretty simple. First, you'll need to schedule your library (which you've selected for your feeds) like you normally do for other libraries under the "Schedule" page like so:
After that, head on to your library and you should see a little 'pointer' on the first post. This means that your feed posts are scheduled to go out to your social accounts one after the other in a recurring manner (unless it is a one-time-use library).

It should look something like this:
Now, each time you accept a new post from your feeds, it will appear on top of the post which has the pointer while the pointer itself will also move to the newly accepted post like so:
If you want a different post to go live on your account first, simply click on the " ⋮ " icon beside that post, select "Schedule Next" and select your social accounts and click "Save" like so:

Once you're done, you will see how the pointer has shifted to the post that you just scheduled like so:
From here on, any new posts that you accept from your feed will appear on top of the 'pointed' post (as the pointer keeps shifting to the new one).

The post(s) on the very top that aren't scheduled, however, will go live on your accounts once all the other ones have gone out as the cycle repeats.
You can also schedule your post directly by dragging it to the position where the pointer rests using the drag icon on the bottom right of a post.
If you still have any query, feel free to ask us at your convenience.