There's a new version available for this guide. Click here to read.
In order to schedule content on your social accounts, you can create new content or import the existing content that you have posted on your website via RSS Feeds or from your social accounts via our import plugin.
RecurPost is a social media scheduler that allows adding of multiple kinds of content, allowing you to have variety in your posts. Here is a list of different types of content supported by RecurPost:
Text Post: Simply write your content in the form of text and add it to your library. Text posts alone do not include other formats.
Link Post: In order to add a link you can simply post it in the message box. RecurPost will get the information including title, description and image from that link. A Link Post typically looks like an image with an embedded link. When you click on the image it opens a new browser window and takes you to the embedded link.
Image post: An image post is a post that has an image, doh, and a caption. What you write in the message becomes the caption to go along with your image. You can include a link in your message that goes with the image and when someone clicks on that link they will be taken to that page. However, clicking on the image will open the image itself and not the link from the message.
Video post: We let you upload a video and then it will be posted natively for you. Due to the cost of hosting video files, video updates are only available for paid plans.
With RecurPost you can either save an update to use it again and again automatically or you can just send it out one time and be done with it. Content that should be repurposed, i.e. your evergreen posts such as your blogs or what others have written about you, should be added to a library and the content that is to be posted once can be scheduled as what we call a one-time-post.
To add content to be posted once you add it via Editorial Calendar. Click on the "Create one-time-post" and you will be able to add a new update.
To add content to your library, go to the library menu and click on the library name and then click on the "Add an update" button.
In the screenshot below you can see the message in the box, the image and the title and description next to the image. The image, title, and description appear automatically when you add the URL. Simply paste it and it will start pulling the data. The current screenshot displays how your post will appear on Facebook. You can click on different tabs to see what it will look like on other platforms too.
Note: If for some reason RecurPost fails to detect your URL, click on the refresh icon next to the "Post Preview" label and it will fetch the preview.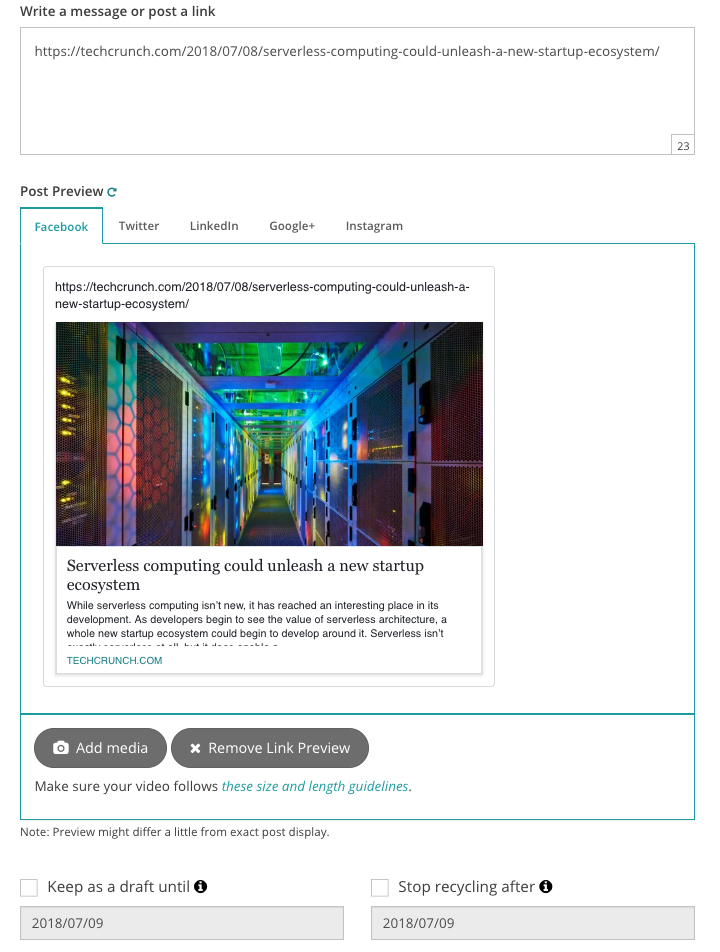 If you don't want the title or description from the link and instead want to add an image, you can do that by selecting one of the options under the "Add Media" button. This will allow you to set an image and your message will become the caption for that image.
When you click on Search for an Image a window opens up that lets you search for copyright-free beautiful images that you can add to your post right away. Isn't that amazing?
Once you have created your post, click on Add to library and based on your schedule for that library it will start going out to your social accounts.